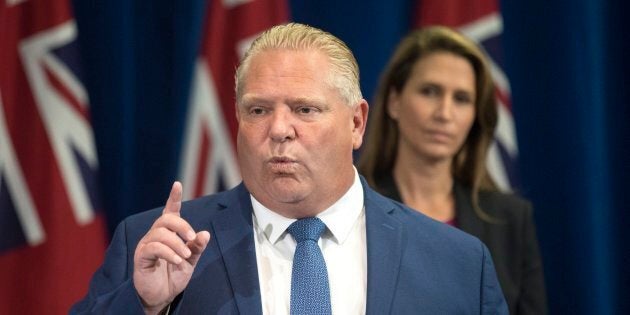 Ontario's premier opposes the push to ban handguns in Toronto, arguing it's not a good way to tackle violent crime.
Doug Ford made his position clear Thursday after announcing his government will spend $25 million in four years to target illegal guns and gangs in Canada's biggest city. Ford called on both the federal government and City of Toronto to match the funding.
In the wake of a mass shooting last month in the city's Greektown neighbourhood, Toronto City Council voted to ask the federal government to ban the sale of handguns in Toronto, and for the province to ban the sale of handgun ammunition in the city.
Ford suggested, however, that such a move would amount to punishing "the good guys."
"I wouldn't support a ban on handguns," he said. "There's a lot of legal, responsible handgun owners."
Ford stumbled a bit when he cited Chicago as an example of why such a move wouldn't work.
"They have a ban and, guess what, last week they had 72 shootings. Seventy-two or 76 shootings. Just imagine that," he said.
While Chicago had a ban on handguns for decades, it was overturned by the U.S. Supreme Court in 2010. At least 72 people were shot in the city in recent days, according to USA Today.
"We have to refocus all our resources on going after the bad guys, not the good guys, but the bad guys," Ford added. "And as I said, we're coming for them. So to all the bad guy out there, heads up, we're coming to get you."
NDP Leader Andrea Horwath said in a statement that Ford's position was "disturbing."
"His defense of handguns as having a place in downtown Toronto is wrong. There is an urgent need to address the sale, possession and use of handguns and ammunition within densely populated urban areas and municipalities," she said. "There is an urgent need to stop the gun violence from going from bad to worse."
Toronto Mayor John Tory has pushed the idea, asking why anyone in the city needs a gun at all.
Trudeau looking at 'a lot of things'
"There are a lot of things that we are looking at right now," he said. "Obviously, there's a lot of strong emotions going on."
Public Safety Minister Ralph Goodale has said that despite the government mulling proposals to strengthen gun laws, reclassifying weapons would require a "significant remodelling of the Criminal Code."
The Globe and Mail reported late last month that Trudeau will decide in August if the policy will be part of a legislative reset that would mean proroguing Parliament.
Federal NDP Leader Jagmeet Singh has publicly called on Trudeau to allow cities to ban handgun.
"The federal government should not stand in the way of municipal leaders who know their communities best, and want to ban these weapons to keep their residents safe," Singh wrote in a letter the party released.
Premier promises 'legal SWAT teams'
Ford promised Thursday that the new funding would not not mean a return to controversial police checks known as carding. It will, however, include $7.6 million for what he dubbed "legal SWAT teams" at each courthouse in Toronto.
According to a news release, each team will be led by a Crown Attorney "with the mandate to focus exclusively on ensuring violent gun criminal are denied bail and remain behind bars."
Ford also says Ontario will spend $18 million to provide additional digital, investigative and analytical tools to Toronto police to help them fight drug gangs and gun crime.
With files from The Canadian Press