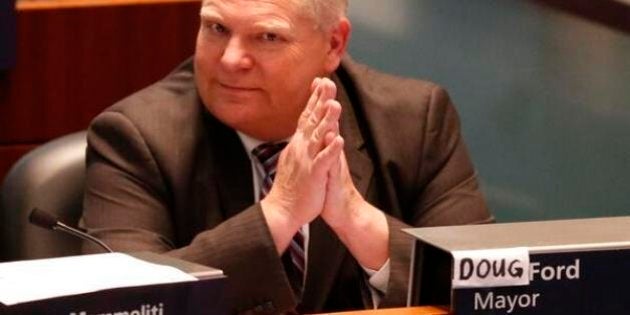 Doug Ford isn't saying if he will run for Toronto mayor if his little brother drops out of the race.
Toronto Sun reporter Don Peat asked the city councillor on both Friday and Tuesday if he would consider pursuing the top job if the mayor ends his re-election bid.
"I have no comment on that," Doug Ford said both times.
On Tuesday, Sun photographer Michael Peake shared a pic of Doug Ford sitting in his brother's chair in council chambers "with help from Giorgio Mammoliti," a Ford ally who has hinted he might run for mayor if Rob Ford quits.
You'll notice a piece of paper with the word "Doug" on it taped over Rob's name.
The Globe and Mail's Ann Hui said Mammoliti made the sign as a joke and wants Doug Ford to run.
But Doug Ford isn't just playing coy about whether or not he has any mayoral ambitions.
On Tuesday, he was tight-lipped about where in the world his brother isafter The Globe reported that the mayor did not enter the United States when he flew to Chicago last week.
Rob Ford had announced he was off to rehab but Ray Norton, Consul General of Canada in Chicago, told The Globe he "voluntarily withdrew his application to enter the USA."
Doug Ford told reporters at city hall Tuesday his brother is doing well and getting help in a rehab facility, but wouldn't say where he is getting treatment, The Toronto Star reported.
"Due to confidentiality to not only the mayor but to the people in the rehab program, I'm not at liberty to say," he said. "He's in a rehab facility, 100 per cent, and he's getting the support that he needs."
Counc. Denzil Minnan-Wong took to Twitter late Tuesday afternoon to say he has spoken with the mayor.
Doug Ford said his brother was "very emotional" when he told him the news.
"He told me the hardest thing about this is knowing he let people down," Ford said. "He let his family down, he let his friends down, he let his colleagues down, he let his supporters down and he let the people of Toronto down."
Toronto voters head to the polls on Oct. 27.