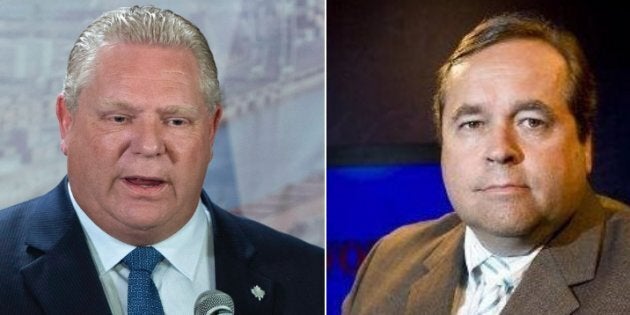 TORONTO — Ontario Premier Doug Ford touted his changes to the province's curriculum at a Christmas event hosted by a controversial and divisive Christian leader this weekend.
"We're bringing change to the education system. We're reforming the education system," Ford said onstage at the event in Mississauga, Ont. on Sunday, which was hosted by Canada Christian College president Charles McVety.
Ford is facing multiple court challenges from LGBTQ parents and youth for repealing the province's health and physical education curriculum and temporarily replacing it with material first introduced in 1998. The repealed curriculum introduced students in Grade 3 to the ideas that some families may have two mothers or two fathers, and that different people express their genders in different ways.
"Gender is immutable," he said. "You can't change your gender."
Ford did not take questions.
McVety was kicked off a Christian television station in 2006 after Canada's broadcasting standards agency received complaints about his comments regarding LGBTQ people, Muslims and a devastating earthquake in Haiti.
While McVety is allowed to dislike homosexuality, his comments on TV crossed a line, the Canadian Broadcasting Standards Council (CBSC) said. His suggestions that LGBTQ people prey on children were particularly unacceptable, the panel said.
"To leave the totally unsubstantiated impression that gay and lesbian adults have a predilection toward young, underage people is insidious and unacceptable," the CBSC panel said. "The Panel finds the McVety mis-characterizations as excessive, inappropriate, disparaging, and abusive."
Members of the public also complained about McVety's comments about Muslims and Haitians. His "overall message" about Muslims was that they pose a threat to the western world, the CBSC said.
On Twitter, McVety has called the Islamic faith "a war machine."
Representatives for Ford responded to HuffPost Canada's request for comment Monday, but did not answer questions about whether or not Ford endorses McVety's views.
"The event organized by the Canada Christian College was a Christmas concert to help raise money for The Scott Mission – a Christian mission which helps support the homeless and most needy in Downtown Toronto," spokesman Simon Jefferies said in an email. "Premier Doug Ford was happy to celebrate Christmas and lend his support for a good charitable cause."
During question period at Queen's Park last week, Ford dismissed criticism of his association with McVety as anti-Christian.
"I guess the Premier doesn't think that the LGBTQ community or minorities are taxpayers either in this province of Ontario—pretty shameful," NDP MPP Taras Natyshak said on Tuesday.
I'm not anti-anything.Premier Doug Ford
He listed off some of McVety's comments and asked whether they represent the premier's values.
"These are good Christian people," Ford said of the people attending McVety's event. "Maybe [Natyshak]'s anti-Christian; I'm not anti-anything."
Three other Progressive Conservative MPPs — Sam Oosterhoff, Will Bouma and Deepak Anand — were onstage with Ford during the event.