If you're reading this, it's too late — 6ix God's six o'clock shadow is no more.
In a now-deleted Instagram post, Drake posted a black-and-white gritty shot of his newly beardless baby face. He must've predicted the Internet's backlash, because his selfie is accompanied with the promise of his facial hair's triumphant return.
"Beard making an epic come back in 2 weeks... only for you @nbcsnl," he wrote.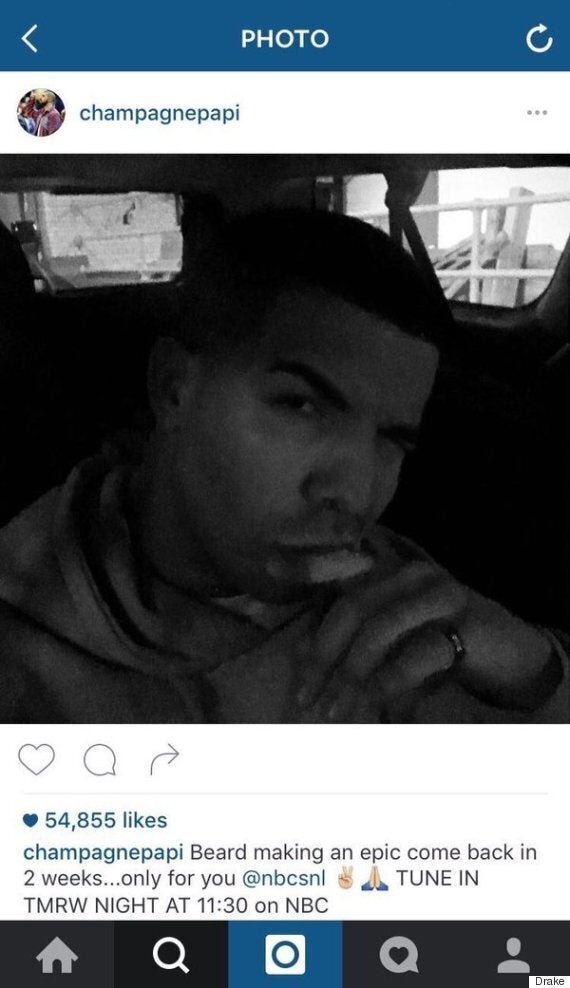 That didn't placate Twitter at all. Drake's fans scolded the rapper for being on his worst behaviour, taking issue with the fact that he clearly didn't know himself, or his worth.
"SNL" fed the frenzy by posting a throwback to Drake's pre-beard era. The gif features Drake from his 2014 appearance on the show, channeling Lil Wayne as Urkel.
It's not surprising that Drake's pulling all the stops out for "SNL." His last appearances as both guest and as a a surprise musical act have shown off the former "Degrassi" actor's versatility and comedic chops.
We can't wait for his "SNL" skits, especially if actress Leslie Jones makes good on her promise to spank Drake like a baby.
Until then, let us all have a moment of remembrance for Drake's beard and how it made us feel.
RIP Drizzy facial hair, 2015 - 2016. May a flight of OVO hoodies sing thee to thy rest.