On Saturday October 5th, the Annual Monumental Tournament of Aces was held at the Links of GlenEagles, in Cochrane. Kelly and Diane Kimmett, their family and friends have held this event for the last six years in memory of their daughter, Lindsay who tragically passed away in 2008.
Lindsay was training to become a doctor and had a great love of sports. Over the years funds raised from this event have gone to help numerous causes, including the Cochrane Arts Foundation proposed Performing Arts Centre, The LINDSAY Virtual Human Project at the University of Calgary School of Medicine and "Lindsay's Kids", a group of 17 children who will have their registration fees and equipment sponsored.
The weather for the golf was clear but cool and everyone was pleased to get back to the club house for the evening program. After a great meal Kelly welcomed the guests and explained that this year the money would go to the expansion of the community project at Mitford Ponds. This had been kick started with the $25,000 Cochrane won as part of the TSN Kraft Celebration Tour in 2012.
Next, he introduced Leesha Mafuru from Boma La Mama. Leesha is a midwife from Cochrane. She has spent a number of years in Tanzania and, with her husband Lawrence, have set up a foundation to build a birthing centre in Mto wa Mbu, Lawence's home village. Last year's golf tournament provided funds to start this venture and Leesha was there to give an update. The town of Mto wa Mbu had asked that the foundation also build a one-room school. This has been completed and The Lindsay Kimmett Academy will soon be taking in its first Kindergarten students.
Following Leesha was Reid Kimmett to talk about the Kimmett Cup / Hockey Quest 500 event held in January this year. This event raised $400,000 for Right To Play and will allow 8,000 children to have a Right To Play program for one year. Hockey Quest 500 was my 6th Quest in my "Quests for Kids" initiative and was an attempt to set a first ever Guinness World Record for the most players in an exhibition game of hockey.
Guinness required a huge amount of documentation, in order to verify the record and this was sent to London, UK, some months ago. Reid then made the big announcement. Cochrane had achieved the record and are officially World Record holders. In total 374 players participated in the attempt, many of them boys and girls between the ages of 6 and 12. They can now apply for their certificate and Canada Post will be busy handling all the envelopes coming into Cochrane.
Jason Baserman, who along with Reid and Joe MacLellan, was an organizer of the record attempt then spoke about the plans for the 2014 Kimmett Cup. The charity they've selected is the Children's Wish Foundation and they want to grant 10 wishes to kids who have terminal diseases.
I know what my wish for them would be.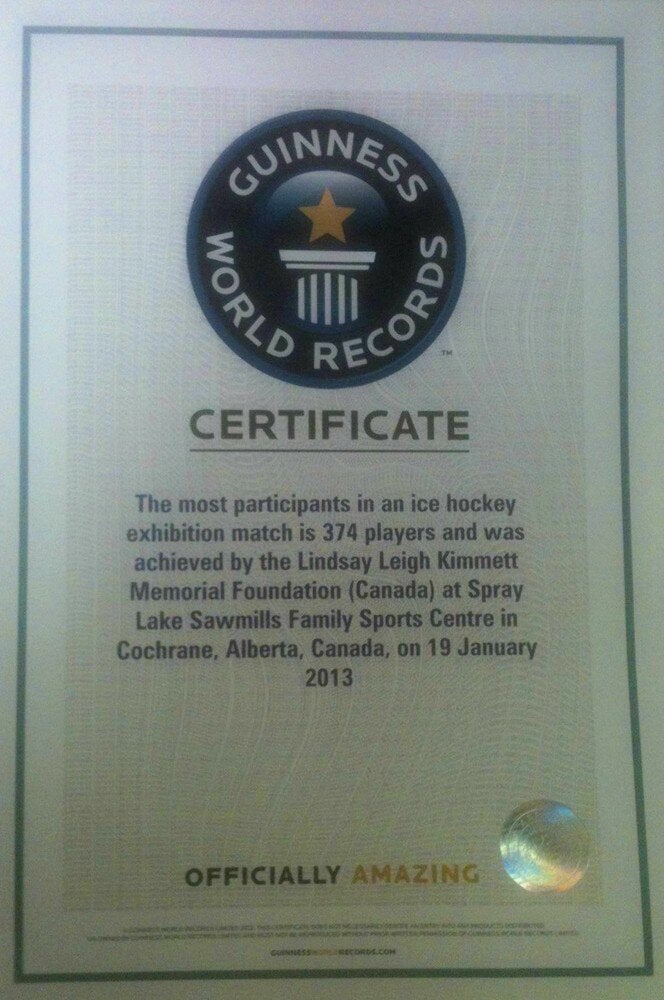 Dream Weaver