Even though it's been six years since Kate Middleton wed Prince William, we still think the Duchess of Cambridge's wedding dress is one of the most beautiful gowns we've ever seen.
And we're not the only ones who can't stop gushing about it.
One of the dressmakers who worked on the duchess' Alexander McQueen wedding dress recently opened up about what it was like to make the iconic gown, as well as how she and her team kept it a secret from the public.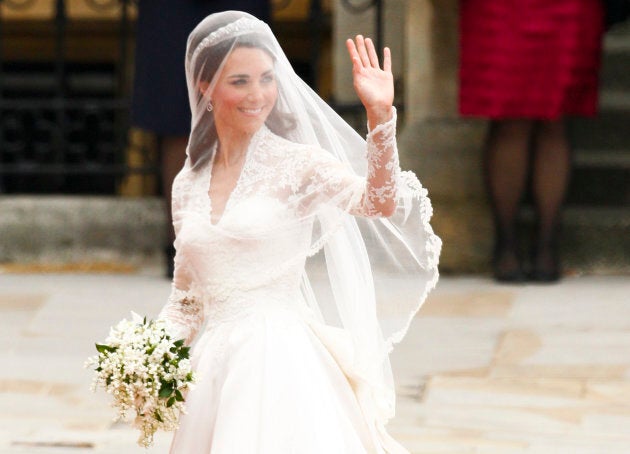 Talking about her time making the gown following a recent visit by Camilla, Duchess of Cornwall, to the Royal School of Needlework, dressmaker Mandy Ewing said the experience was a "once in a lifetime opportunity," reports Hello.
"We knew who [the wedding dress] was for, but it was very secret — we had net curtains up and cleaners were not allowed into the room and the code on the door was changed," she said. "The dress was all in the news, but nobody knew who was doing it. When you're working you just focus on it and try not think about what's in the news. But it was an exciting event and everybody loved working on it — it was a once in a lifetime opportunity."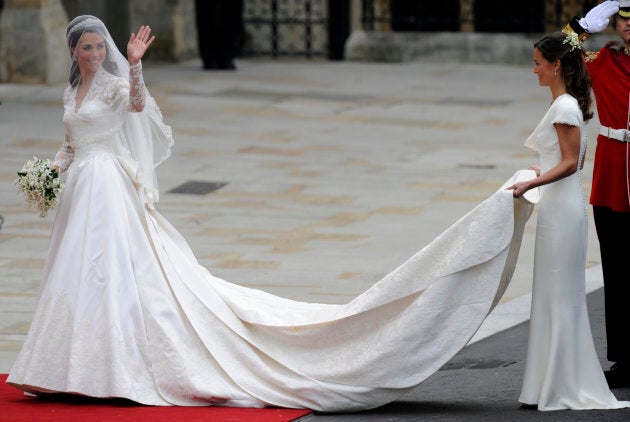 The main body of the dress was made in ivory and white satin gazar, using U.K. fabrics that had been sourced by Burton, with a full skirt that was designed to look like an opening flower. The "something blue" tradition was a blue ribbon that was sewn inside the dress, while the "something old" was the 19th-century technique called Carrickmacross which was used to place images of roses, thistles, daffodils, and shamrocks on the bodice and skirt.
Burton previously discussed what it was like creating the special royal gown, telling New York Times Style magazine, "I had no idea it would be as big as it was. Only the night before, seeing all the photographers outside the abbey, did I think, 'Oh, my God. This is massive.'"
"I loved making the dress, I loved adapting my ideas to suit the person and the occasion, and we put our hearts into it. I respect the intimate nature of that lovely project and I respect the friendships that were forged during it... an instinctive, intelligent, imaginative young woman's wish for a beautiful wedding dress — or any kind of dress — is the most natural thing in the world."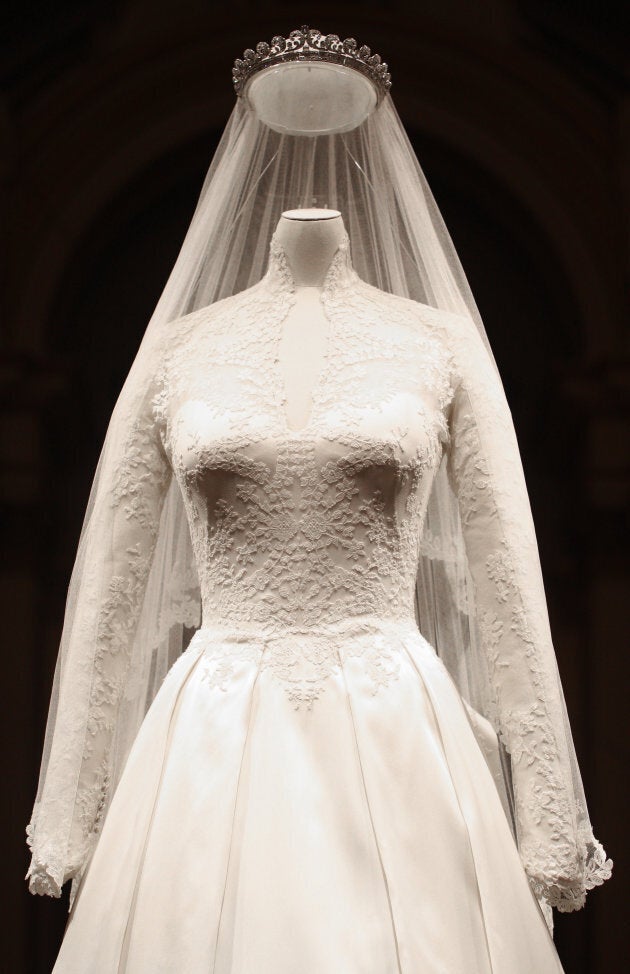 Burton also created a second "wedding" dress for Kate to change into after the ceremony: a simple ivory and satin dress that featured a sweetheart neckline, circle skirt, and diamante belt, topped off with a white angora bolero over her shoulders.
Keep Up With The Royals

Get our weekly email round-up of all things Royal.
Popular in the Community