"If you haven't noticed, I'm a black lady."
Stand-up comedian Dulcé Sloan is onstage in front of a raucous Toronto audience, already in stitches since she walked onto the stage, performing at the Just For Laughs comedy festival in Toronto on Sept. 22.
"I have dealt with more issues being black than I have being a woman," she says. "I have to explain this to my white women friends because they're all like 'We're all women!' And I'm like, 'Shut up!' Because being black is literally my description as a human. And there is so much oppression I have to deal with in everyday life."
"So, what I like to do is break my oppression down. I'm black Mondays, Wednesdays and Fridays. I'm a woman Tuesday, Thursday, Saturday. I'm fat on Sunday — even God rested one day."
Decked out in a crimson lace top and accessorized with the confidence of a veteran comedian despite being a relative newcomer, Sloan is not afraid to say what's on her mind. And what's on her mind is defined by her experience as a black woman living in a highly polarized time in the U.S.
"You're reminded every day that you're black in the U.S., " Sloan told HuffPost Canada in an interview. "When you're followed around in stores, when you turn on the news, when you walk down the street. Being black in America is a full-time job."
Sloan has landed the near-perfect platform to explore these issues and more as one of the newest correspondents on "The Daily Show with Trevor Noah."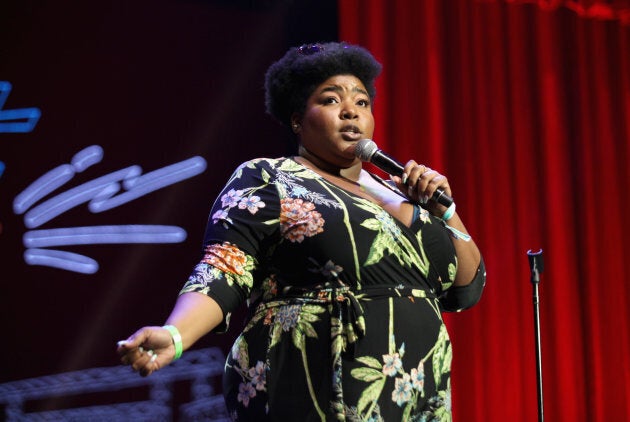 And now, she's repping the ultimate comedy-meets-political-satire game on "The Daily Show."
"It's been an amazing ride so far," said Sloan.
She said she landed the "Daily Show" gig after broadcast network Comedy Central saw her during a Roast Battle.
"My manager and my agent called me and said they wanted me to audition for 'The Daily Show.' I had to send in an audition tape. Mine was about me coaching white people about what to do on social media. Like, stop being so surprised when people of colour experience something racist. Stop defending racists to people of colour," she said.
Popular in the Community