 Tis the season to be jolly, right?
Any day I wake up above ground, I'm happy. I know too many dead men and women walking. Nothing reminds me more of this than Christmas time.
Last week, a few of my friends and I each bought 20 $5 Tim Horton's cards to hand out to the homeless. We were repeatedly warned, "They will refuse them. They only want cash to waste on cigs, booze or drugs." I was prepared for anything.
The day before we headed downtown, I went to my bank and someone outside asked for money. I remembered I had the $5 Timmy cards right in my coat pocket. I asked, "What's the money for?" The man answered "For some food." "OK," I said. "Will a Tim Horton's card do?"
His face lit up, and after many thanks, my only thought was: "tomorrow's blitz for the homeless just might work out!"
And work out it did. I think many of the homeless we greeted had never been offered a Tim's card before. It's an idea that can be paid forward. If you feel people who ask for money will waste it, this is one way to feel better about giving in this unique way.
I learned that 40 years ago when I read the Washington Post's advice columnist Ann Landers (her pen name), who said her father would never reject someone who begged for something -- he would take them and get them something. Then it was their choice to say "yes" or "no" but he felt better knowing that if they accepted the offer he did the right thing.
Landers' father was moved by his conscience; my concern for the homeless is not altruistic. I know what feeds my desire to do something, anything, for fellow human beings who have nothing: guilt, responsibility, memories -- knowing that only by the grace of God go I.
You see, my youngest brother, Erik, has been living off and on the streets for 30 years, the last two decades in Vancouver.
My family hasn't seen him in 15 years.
Blog continues below slideshow...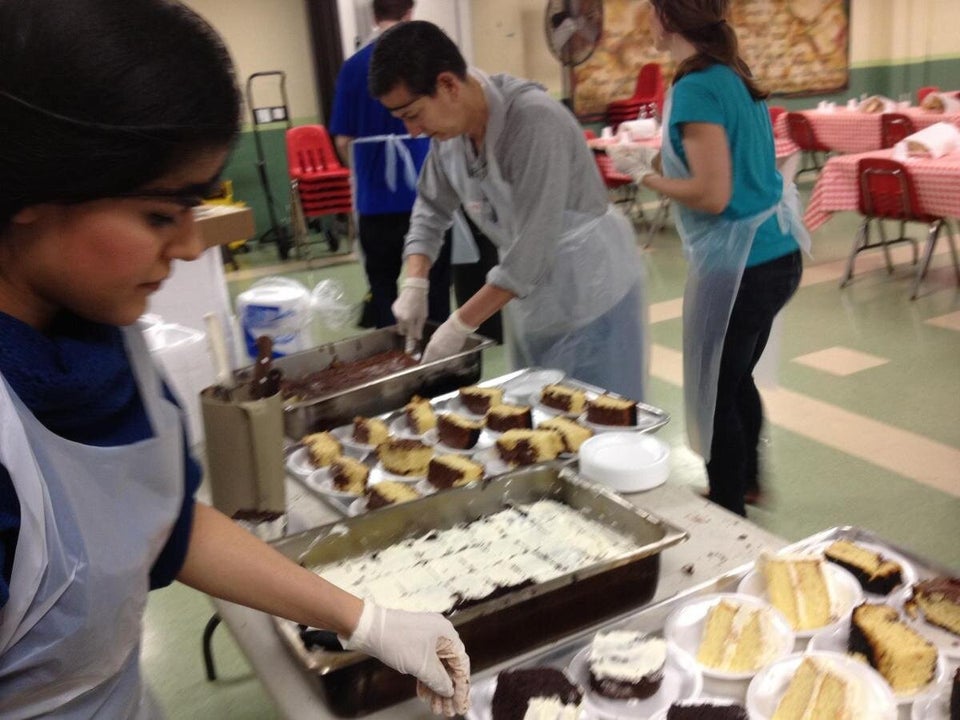 6 Tips To Reduce Stress This Holiday Season
A couple of years ago I wanted to donate some money to the Kettle Friendship Society that feeds the homeless in Vancouver like my brother.
Unfortunately around that time and the second last time I spoke to my brother (when he called collect from a phone booth), he told me he was banned from the "Kettle" because of fighting with another guest. So, it didn't make sense to send them money when he couldn't even get in the door to benefit from their services.
So I thought of something else. The Palace Theatre on Dundas Street here in London, Ontario, were continuing their restoration process. They were refurbishing seats at $200 a pop. My brother's name is on one of those seats now -- a small plaque. I wanted him to somehow have something permanent, something to say, yes, you were here; you matter.
Or was it me that wanted -- needed -- something permanent?
That's what you do when you have a loved one you can't reach, someone who lives on a street with no name. You crave something tangible. Well, you do during the moments that aren't spent dreading an imaginary phone call that will tell you somebody found his/her body.
Erik's life on the street actually began soon after a very real call I received in 1982 when he was 15 telling me that my brother took an overdose of drugs and was barely hanging on to life.
It's difficult to describe the 30 years since that moment. A perpetual suicide watch. It's unfortunate too many know exactly how my family feels. It's like walking around with a knife in your heart. You laugh, you live, but it's always there.
Last Xmas, I received an email from a Living Waters Mission minister in Vancouver telling me she had seen Erik.
"He is not well, but he is alive. He is staying at a hotel..."
By an odd coincidence, that same weekend I attended a musical South Pacific. These words kept ringing thereafter in my head:
"Once you have found him,

Never let him go.

Once you have found him,

Never let him go!"
I contacted the minister named Gloria -- or "angel" as I saw her -- and asked, "If I send you a money order, would you treat yourself and Erik to the biggest buffet dinner you can find in Vancouver."
She took my brother to Uncle Willy's in Burnaby. She didn't tell him until he was done his meal that I had arranged it and thankfully, rather than be upset, he was thrilled.
Remember I mentioned craving something tangible.
Gloria sent an attachment: a photograph of my brother sitting across from her in the restaurant toasting her.
The first photograph we have of our brother in years.
Now that I had a definite address a friend visiting Vancouver took a care package to the hotel for me and found out that The New Dodson Hotel was owned by Christian entrepreneurs who had bought the hotel to improve the quality of life for a lucky few in Vancouver's poorest neighbourhood.
I just sent a care package from my family and the hotel staff were kind enough to let me know it had arrived. And even better I talked to Erik for the first time in years. My sister happened to be visiting so Erik was able to talk his mother and two siblings. It was great and odd at the same time.
It was obvious my brother still has so many issues that I can't begin to help solve with 4,207 kilometers between us.
But knowing Erik is alive, has a roof over his head and finally hearing his voice I can finally take the knife out my heart.
Even so Erik is still a prisoner of his own war. Yet another year, he hasn't been declared its casualty.
Popular in the Community