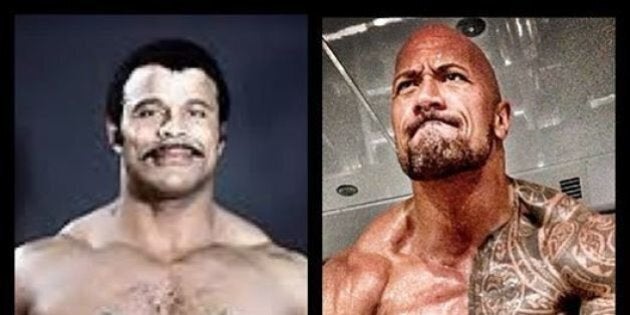 Dwayne "The Rock" Johnson wasn't always the super tough muscle man he is now. On Reddit, a rare throwback photo resurfaced showing the actor and former professional wrestler as a young boy standing next to his famous Canadian father.
In the snap, Johnson is seen wearing a pink three-piece suit as he poses beside his dad "Soulman" Rocky Johnson, a revered WWE Hall of Famer.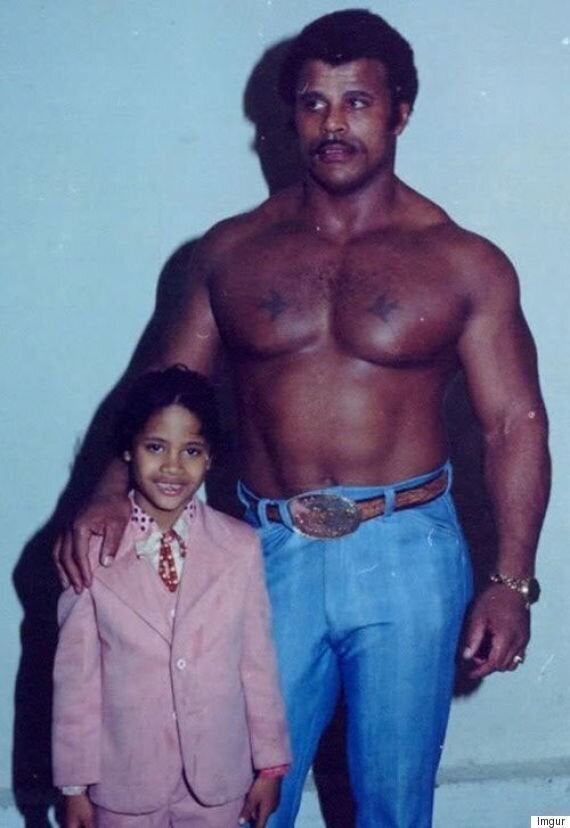 Johnson confirmed to The Huffington Post via Twitter that the photo is real and even joked that he looked like a six-year-old girl.
In response to the photo, Reddit and Imgur users were quick to comment on the likeness of the father-son duo. "I see the apple didn't fall far from the tree. Damn, daddy looks good!" one user wrote.
Others noted how small The Rock looked next to his enormous father. "Also known as Dwayne 'The Pebble' Johnson at this point," one joked.
Another kidded: "Is this picture of Arkansas, because there's Little Rock."
It's not surprising that Johnson followed in his father's footsteps and became a professional wrestler. In fact, the 43 year old's maternal grandfather, "High Chief" Peter Maivia, was also a WWE star back in the day.
Additionally, in his social media posts, Johnson has always made it clear how much he respects his father.
Here is a recent picture of Johnson with his parents from May of this year.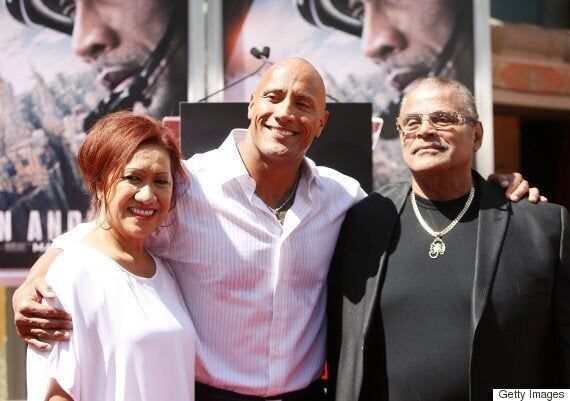 Johnson's father was born in Amherst, N.S., but moved to Toronto, Ont., at the age of 16 and began wrestling. From there, he trained and eventually became a huge pro wrestling star in the '70s and '80s.
During his career, "Soulman" Johnson became a top competitor in the National Wrestling Alliance and, paired with Tony Atlas, he was part of the first black tag team to win the World Tag Team Championship in the World Wrestling Federation (WWF).
Soulman retired from the ring in 1991, but didn't stay away from wrestling for long. He soon began training his son, who he had with Ata Maivia. "I tried to discourage him, but he insisted and gave me 150 per cent," Johnson's father said. "It's what carried him to where he is today. He's what keeps me going."
While The Rock never lived in Canada during his childhood, Soulman promised to take his son back to his hometown one day. After he and Maivia divorced in 2003, Soulman returned to Amherst for the first time in 44 years. While he only stayed a few weeks, the retired wrestler said, "I'll be back, and I may even bring The Rock with me the next time."
Let's hope he keeps his word!