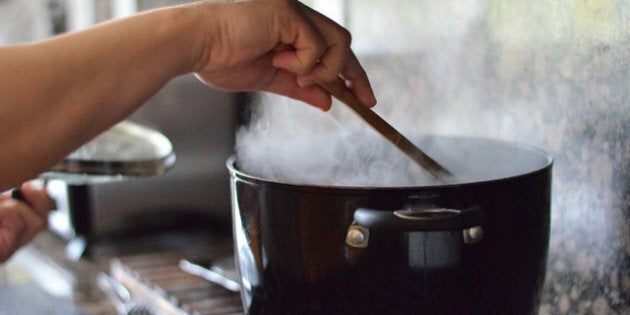 In my grandmother's generation, women used to participate in a now bygone tradition called a coffee klatch. This was a kind of community kitchen where women would gather over coffee while creating some form of delightful pastry to discuss family, share recipes, gossip and bemoan rogue spousal behaviour. As a child, I was sometimes permitted into this secret world as an innocent interloper, there usually to steal cake and eavesdrop under the table at the adult conversation that was at the time quite literally over my head.
Admittance to this secret society of women was based on three primary factors: marriage, food savvy and the power and insight that comes with age. Many a cure for serious ailments was dispensed at these gatherings. Home brews, poultice preparations and fever treatments were doled out with equal amounts of love and disapproval for whatever required an immediate cure.
Despite the recent resurgence of community kitchens and food shares across the country, we have not seen a collective (read: nostalgic) harkening back to the coffee klatch that predated many of the current pay-what-you-can community food endeavours. The groundswell of the local food movement has done wonders for individual communities, but despite this growth, the wisecracking, remedy-dispensing kitchen culture of my youth is no longer a physical place but a virtual one.
For many of us, food, health and relationship advice can now be acquired virtually and on demand; and a cure-all recipe for chicken soup can be more easily Googled than sought from a trusted family member.
Consider that a general search on aging and wellness, popular topics in my grandmother's day as well as mine, will index information from valuable health-care innovations to ads for wrinkle creams and plastic surgery.
In many respects, we have come to supplant grandmotherly advice with technology. When we have health questions we turn to the Internet or our phones, where trusted and foolish instruction is doled out in equal measure. A recent PEW Internet study on mobile health showed that one in five adults use smartphone technology to download health apps as their go-to resource. Our health discourse, once infallible, now amounts to a lot of white noise.
With so much health information on the web, our phones and even at the checkout counter, it's hard to know what's worth the investment without the benefit of a doctor or a kitchen full of wise women. That's why Carol Greenwood, a nutrition and cognitive scientist with the Rotman Research Institute at Baycrest Health Sciences has cooked up a strategy to help cut through the noise and allow people to maintain good brain health, especially as they age.
After all, how well we age is not just a by-product of the goods we buy, but how we behave. Many pre-packaged foods will tell you of the benefits of eating heart-smart. Foods like lean proteins, low-fat dairy products, fibre and unsaturated fats all support optimum heart health, but foods that optimize other equally important parts of the body -- like our brain -- aren't always stamped with a check mark at the grocery store.
Dr. Greenwood, a senior scientist and Canada's leading professor of nutrition and brain health, has teamed up with Daphna Rabinovitch, an award-winning recipe developer and food writer, and Joanna Gryfe, a food and media expert, to create Mindfull, a science-based e-cookbook for the brain.
With the backing of science, the accessibility of an e-reader and the collaboration of chefs from across the country including Michael Smith, Mark McEwan and Laura Calder, the collection of 100+ recipes is a virtual community kitchen. Mindfull debunks myths about nutrition, tells us what to eat to promote optimal brain health and healthy aging, and provides useful tips on how to boost our cognitive function at times of the day when we are feeling low.
"Lasting memories often revolve around food," notes the Mindfull introduction. In fact, the authors see food as a driving force in the battle to save the memories and minds of women and their loved ones. The project was initially conceived by Women of Baycrest, a dynamic volunteer group focused on healthy aging and women's philanthropy. Focused intentionally on the notion of "food for thought," the book uses ingredients as stepping stones on a path that leads towards strengthened memory, mental clarity and ultimate brain health. Even the e-format speaks to a dynamic interactivity between what we eat, ways in which we enhance brain activity, and how we process food and ideas to maintain cognitive function throughout the lifespan.
With dementia rates expected to soar in coming decades as Canada's population gets older, there is good reason to be thinking about the consequences of population aging and our need for combative, easy-to-access tools to support getting older better. A downloadable e-cookbook, Mindfull, makes for a useful tech tool to cut through the noise and focus on the brain in the wellness equation. Though not quite as wisecracking as my grandmother's kitchen, what it lacks in advice on errant spouses, it makes up for in practical and adaptable guidance for a busy household concerned about keeping healthy aging top of mind.