The Conservative supporter who called reporters "pieces of shit" on Tuesday shares the same name with a man who told Olivia Chow to "go back to China" last year.
Earl Cowan, identified by both the Ukrainian Canadian Congress and The Toronto Star as the angry heckler, hurled the insult at CTV News' Laurie Graham and CBC News' Hannah Thibedeau as they asked him questions about his take on Sen. Mike Duffy's trial.
Cowan was attending one of Stephen Harper's campaign events in Toronto and was shown on camera wearing a "Doug Ford for Mayor" pin.
BuzzFeed's Ivor Tossell made the connection to the Chow incident shortly after footage and photos of Cowan began circulating.
In September, Chow participated in a debate alongside Toronto mayoral candidates Ford and John Tory when she was interrupted by a man yelling "Go home Olivia! Back to China!"
He identified himself as a Ford Nation supporter. He has not responded to The Huffington Post Canada's request for comment.
After his crass outburst, Cowan refused to identify himself to media at Tuesday's event before being whisked away by security.
"Ask questions on the topic at hand," an unidentified heckler shouted.
Spokesperson Kory Teneycke later apologized to reporters on the crowd and Cowan's behalf, calling the behaviour unacceptable and not representative of the Conservative Party.
Video of Cownan's outburst, from CBC News:
With files from Ryan Maloney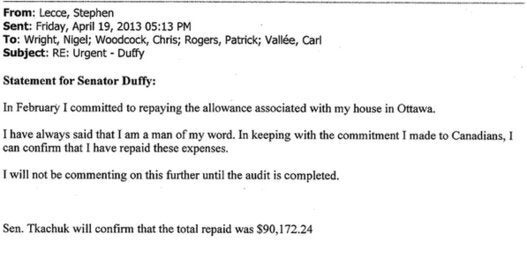 Nigel Wright Emails In Mike Duffy Case

Popular in the Community