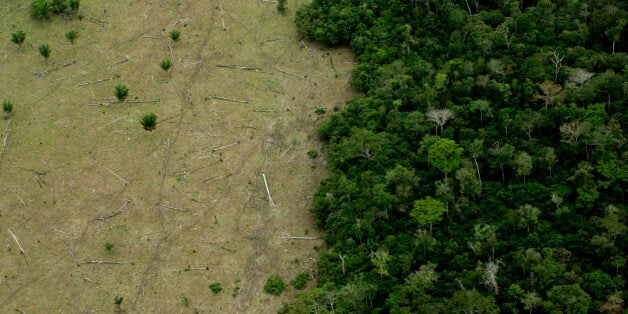 For over 40 years, citizens of the world have come together to celebrate Earth Day, demonstrating their support for environmental protection. This year was no different.
Canadians have always been at the forefront on the movement to protect the environment and fight climate change. Last year, federal politicians voted overwhelmingly to ratify the Paris Agreement. To achieve the global plan of mitigating dangerous climate change by limiting global temperature change to well below 2°C, the government plans to cut the country's annual emissions by around 291 million tonnes by 2030. That is equivalent to removing almost 62 million cars from the road.
But the pace of progress is not being matched by every country. Brazil, home to the Amazon rainforest, surprised many observers last month when it announced it was cutting its environmental budget by almost 50 per cent. Politicians claim they had no choice because of the country's spiraling deficit but scientists fear the cut could cripple efforts to limit deforestation in the country.
Nearly two-thirds of the Amazon rainforest is in Brazil, the world's largest tropical forest. And after a period of success for environmentalists it appears deforestation rates are increasing again. Last year, the Amazon region saw a 29 per cent increase in deforestation -- the highest level since 2008.
For some, short-term economic issues have become more important that environmental concerns. The proposed budget by the US President includes sweeping cuts to organizations involved in the global fight against climate change. It could result in cutting 20 per cent of the UN's climate body's funding and $2 billion that goes to helping developing countries deal with global warming.
With rising rates of deforestation, ever increasing bleaching of coral, and growing frequency of natural disasters, now is not the time to cut environmental budgets, but increase spend and commitments.
As an example, the Indonesian rainforest represents 10 per cent of the world's remaining tropical rainforests. It is one of the five most species-diverse regions in the world; 12 per cent of all mammal species, 17 per cent of all bird species and 33 per cent of insect species call the forest home and a country where the government is willing to collaborate with corporations, NGOs and others to better protect its forests.
And while too many politicians in many other countries have been slow to react, some multinational companies have risen to the challenge of saving the planet. A number have begun to implement their own deforestation policies:
L'Oréal's "Sharing Beauty with All" campaign promised that by 2020, all products will come from entirely renewable raw materials and sustainable sources to ensure their business does not support any form of deforestation.
Unilever has been working with its suppliers, governments and industry forums to eliminate deforestation in its supply chain. Seven years ago, the company committed to achieving zero net deforestation in its four commodities (palm oil, soy, paper and pulp, and beef) by 2020. Through better agricultural practices, the company is working to stop large-scale deforestation. They are making great strides by ensuring its supply chains are fully traceable and certified sustainable.
Clothing giant VF Corporation announced its first-ever forestry policy, aimed at eliminating deforestation and human rights abuses from its supply chain. The company will promote the use of Forest Stewardship Council-certified paper and fibre. VF Corporation operates the brands North Face, Timberland, Vans, and Wrangler.
At Asia Pulp and Paper, we understand the planet's dependency on rainforests and trees. That is why we are now in our fourth year of a plan to transform our business model through our Forest Conservation Policy (FCP). We seek to be at the forefront of responsible production. The four key principles of the FCP are: halting all natural forest clearances; best practice in peatland management; partnership with local communities; and responsible global supply chain management.
It's clear, no one cannot be left to protect the rainforests alone. Success requires on-going and creative partnerships with businesses, government, NGOs, community and many other stakeholders to implement and maintain deforestation commitments. When one side falters, the system fails.
The decision made in Brazil should be a warning sign that there needs to be a universal commitment towards environmental policies on all levels before there is no rainforest left to protect.
Events such as Earth Day serve as a necessary reminder to us all that now is the time to accelerate efforts to drive environmental change that will safeguard the planet for years to come.
Follow HuffPost Canada Blogs on Facebook