Where do you find one of Canada's most sustainable homes, a structure that makes almost no demands on the Earth?
In a rugged valley north of Lethbridge, Alta., that's where.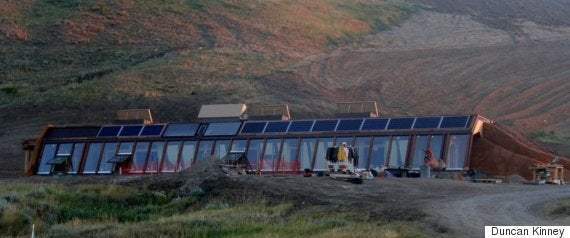 The province's first "earthship" has a Hobbit-like entrance and is built of 12,000 aluminum cans encased in concrete, and recycled tires "sledgehammered full of dirt."
The three-bedroom bungalow captures storm water for drinking, flushing toilets, and growing tomatoes. And it generates its own electricity using sun and wind.
So while people living on a power grid might experience a blackout, the 2,300 sq.-ft. earthship will just keep humming.
Story continues after slideshow:
"When people first hear the word (earthship), they think hippie-dippie tinfoil hat type things," Glen Kinney, the home's co-owner and a former oil and gas worker, told the Calgary Herald.
"Once you explain it they start to get the idea. It's sustainable."
His family celebrated their first Christmas dinner in the earthship last year with tomatoes grown in its greenhouse, said the Herald.
The Kinney family first learned about it through "The Geography of Hope," a book by Calgary author Chris Turner on sustainable living.
Intrigued, Glen Kinney helped to build a number of earthships in Canada and the U.S., before he and his wife resolved to build a "Global Model" earthship, with three bedrooms, two bathrooms and a greenhouse, as their retirement home.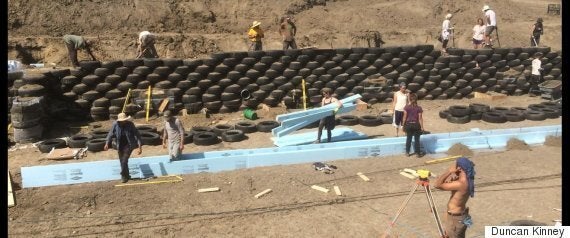 With the help of Reynolds and other workers, the entire structure was almost finished in only five weeks.
Pictures show a home embedded in the landscape, with an earth berm on the back, and solar cells and windows looking out on the valley beyond.
"It's a funky off-grid home," Duncan Kinney told the Herald about his parents' home. "It's a really great space. It's fun to visit."
The earthship isn't the only trend in green living that can be found in Canada.
A B.C. couple live on a massive float home made of 12 platforms called Freedom Cove. Their drinking water comes from a waterfall in the summer, and rainwater in the winter.
And Nova Scotia's Second Peninsula Provincial Park is home to an off-grid concept house that powers a plasma TV, laptops and iPods using solar energy.