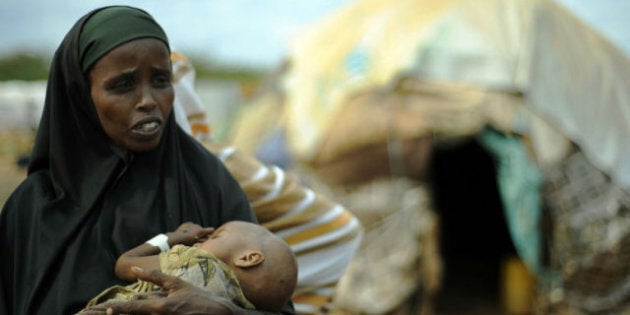 She grips her hands around the scuffed silver pump, half coaxing, half praying for water to emerge from the borehole drilled deep in the earth. Craig watches as this Kenyan mother, a baby strapped to her back, leans heavily on the pipe.
Again and again she pumps. Her family is waiting for her back in her village, hours away in a hut made of sticks, mud and dung. Again, and again, until water, first slowly, then in a gush, hits the plastic jerry can lined with dust from her journey.
Kenya is our second home. We've done development work in the country for 15 years, and in the midst of East Africa's worst drought in more than half a century, Craig is there now. He doesn't see distended bellies, cholera and severe malnutrition everywhere. He sees water gushing from boreholes and drought-resistant crops keeping some communities stable. He sees the difference between life-saving long-term development and a lack of infrastructure that led to hunger.
Kenya isn't immune to the drought; there is a food security emergency. In many northern regions, failed crops have forced families to flee their homes; cattle skeletons lay by the roadside; fathers sell daughters, "drought brides," for food. The short rainy season isn't expected until October. Still, some regions were spared -- which means all of Kenya might have been.
Somalia is different; it's a failed state, so drought pushed an already desperate people across borders for refuge. The United Nations (UN) declared famine in the south and 29,000 children under the age of five are dead. Islamic militants hostile to Western-backed aid agencies made long-term development in the fractious country impossible.
But it's a mistake to view Africa as a single entity and to assume that all aid efforts are equal.
Drought is not new to East Africa. The response this time is reminiscent of past emergency aid operations that provided short-term relief, but halted prior to addressing systemic change. We need more than food drops to stop famine. We need boreholes, irrigation, agricultural capacity-building, water-catchment systems, permanent schools, sanitation, and policy research...to start.
Instead of such long-term support, we're stuck in a cycle. Catastrophe sparks attention and piques donor interest. Of course, we must help now; every aid agency is grateful for the urgent assistance. But too often after the travelling media circus packs up, donor dollars dry up and nonprofits don't have the means to build sustainable infrastructure.
A 24-hour news cycle demands spectacle before analysis. News outlets have fewer foreign bureaus, so world sections lurch from crisis to crisis without context or long-term updates.
We can't recall the last time we read news headlines about war-ravaged Liberia or Sierra Leone. We reported on the ground in post-tsunami Sri Lanka, and in Haiti after the earthquake. We watched countless nonprofits come and go when news coverage diminished and donations dwindled.
It shines now on Africa as relief aid pours in -- we want to express gratitude for this generosity -- these are crucial offerings from governments, non-profits and private donors. In many areas, food aid is still necessary to save lives.
But Kenya, with an established government and envoy of UN missions should have avoided the hunger now gripping its northern regions. Drought is a natural disaster, but stronger infrastructure might have kept it from wreaking havoc and causing famine, which is a preventable human error. Kenya might have been slowed instead of crippled by an onslaught of nearly 400,000 Somali refugees.
So we ask that donors give now.
We also ask that you give to East Africa six months from now -- this February, post-Christmas bustle. Mark it on your family calendar and make it a visible priority beside school plays and work commitments.
Give in times of emergency and again to support sustainable infrastructure. Agricultural development is just as crucial as airlifting temporary food rations. It prevents the human suffering, and often for a fraction of the cost.
Still, countless wonderful charities struggle to fund long-term projects or policy actions, strategies that mitigate the effects of natural disasters and ideally make band-aid solutions unnecessary.
Eighteen months ago, writing this column from Haiti days after the earthquake decimated the land and killed thousands, we asked you to remember the country's long-term plight. Some 300,000 people are still living in squalid tent cities in Port au Prince, dependant on a necessary but dysfunctional brink-of-disaster aid cycle.
Meanwhile, in the middle of Kenya's arid desert, a patch of green marks the borehole amid dry golden grass. A mother holds out a handful of water, dripping between cupped fingers, and the baby takes a sip.
Popular in the Community