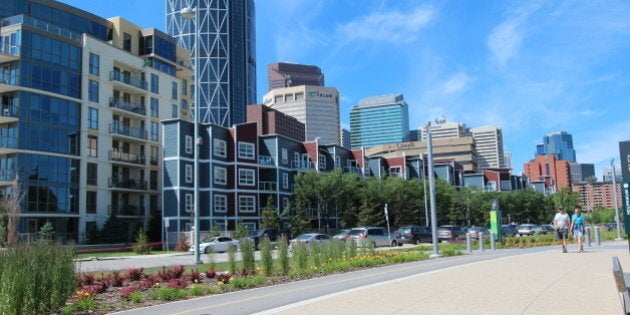 A new and exciting change in downtown Calgary is on the horizon, one that we all can look forward to!
You may have heard about it or even been to one of its events already such as "Food Truck Frenzy" or "Flow by the Bow".
I'm talking about East Village of course; the newly revitalized neighbourhood that is now on the rise just east of the downtown business core.
Once old and run down, East Village is now set to become a vibrant community of nearly 12,000 people when finished -- a cultural hub where locals and tourists alike can go to enjoy activities and events year-round.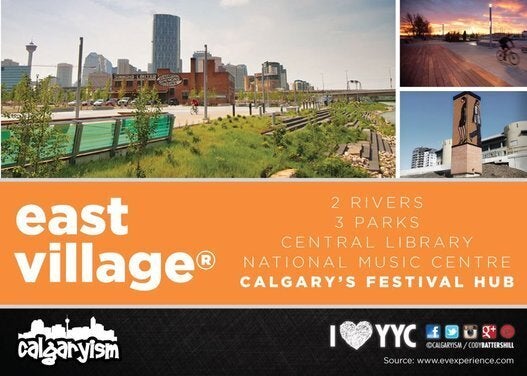 East Village revitalization
This wasn't the first time that the City of Calgary thought it would be a good idea to try and do something with the East Village area.
2002 was the last attempt, which failed miserably, after it was discovered that certain developers had received preferential treatment as land was sold to them for considerably less than what it was worth.
Another deal-breaker was the fact that major infrastructurel improvements were needed to develop East Village to its true potential.
A master-plan (and budget) that would take full advantage of the riverfront property, while dealing with the issues related to its infamous reputation, never materialized; a reputation with a stigma relating to poverty, homelessness and crime that would earn East Village the nickname "skid row" among locals for a long time.
Unfortunately that bad reputation created a "no-fly zone" for Calgary developers, who at the time wanted nothing to do with it.
It would take years until a revisited interest by government combined with a multimillion dollar budget would begin to transform one of Calgary's oldest and run down communities into one of the most anticipated redevelopment projects in of North America.
The company's initial budget of $283.5 million would account for massive upgrades to St. Patrick's Island, the Calgary Zoo, RiverWalk, Stampede Grounds and East Village -- the last of which is spearheading downtown's revitalization head on.
Today, East Village has created a flurry of investments from commercial and residential developers abroad looking to leave their own footprint in the highly publicized area.
More than $1.7 billion has been invested into East Village by developing partners like FRAM+Slokker and Embassy Bosa, both with new condos already underway just steps from the river.
A new 300-room Hilton Hotel, 300,000 square foot shopping centre, National Music Centre, Central Public Library and several other infrastructural upgrades are also part of the master plan that will combine to create one of the most desirable downtown locations, as well as a future tourist attraction, festival hub, and cornerstone for local activities and events as mentioned above.
Needless to say, East Village is a prime example for other neighbourhoods that could experience a revitalization of their own in the near future. One of those is no other than downtown's west end.
Downtown Calgary's west end is yet another somewhat ordinary part of downtown experiencing heightened interest from developers as of late.
Consisting of aging condominiums and street towers, there are also few street level amenities and less interesting streetscapes than in other parts of the city centre, but with continued urbanization, economic prosperity and population growth, the area is set for a revitalization of its own.
New mixed-use condominium projects with bottom floor retail space will provide the west end with those much needed additional amenities while also increasing population and vibrancy as a result.
For example, the three phase new condo project called West Village Towers will not only be easy on the eyes with its stunning architecture by NORR Architects, but also include 90,000 square feet of retail and office space on the bottom two floors.
Across the street from West Village Towers is another newly proposed condominium project by WAM Development Group of 1,800 luxury condos and 150,000 square feet of bottom floor retail.
Vogue and Avenue are also two new condominiums approved by the city that will help rejuvenate an aging west end skyline and promote new amenities and services in nearby locations.
Downtown Calgary is continuing in its evolution! As a local real estate agent and Calgary enthusiast through my Facebook page Calgaryism, I am excited to see what's in store for downtown in 5, 10 and 20 plus years in the future.
One thing is for sure; by the time East Village is completed sometime around 2023, it will be the coolest, hippest, most energetic and fun place to be in the entire city, possibly even trumping the energy of 17th Avenue SW a.k.a. the Red Mile and the cosmopolitan coolness of downtown's Stephen Avenue.
The cranes are in the skyline and we can anticipate Charbar, fun events, festivals and some cool new residential options as East Village grows into its full potential!