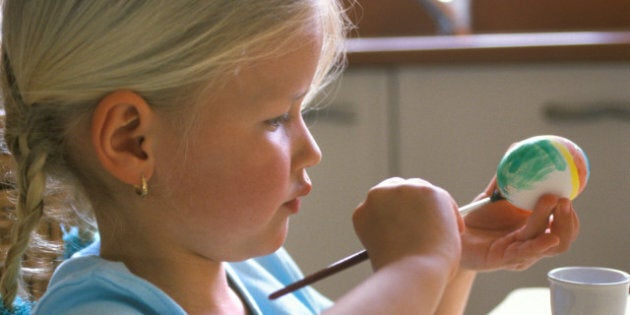 If your March 29 Easter long weekend includes chocolate and hunts, consider squeezing in some egg decorating time with the kids as well.
Check out 10 tips for decorating Easter eggs with the kids: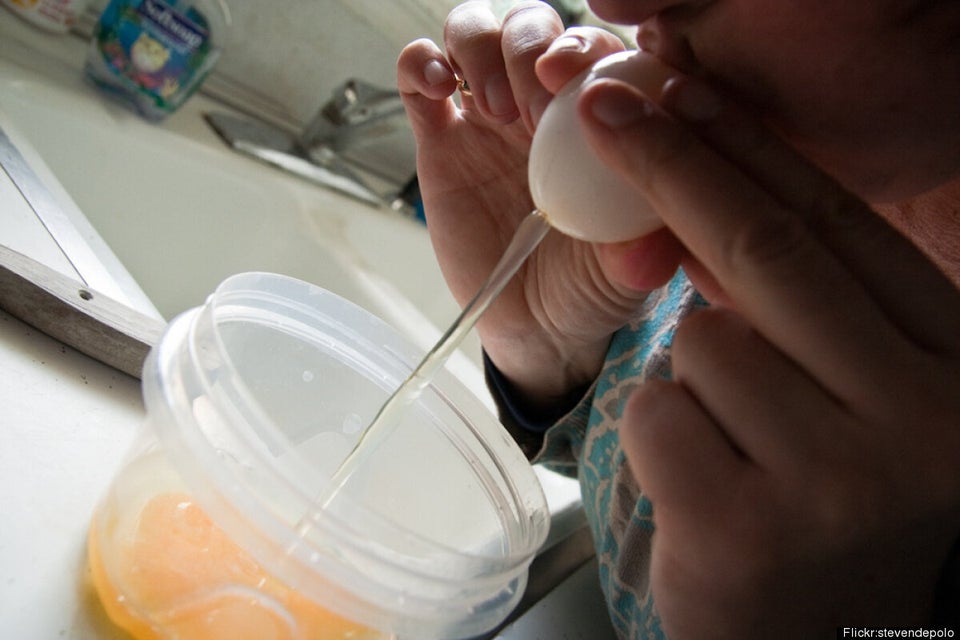 Kid-Friendly Easter Egg Decorating
The first step to prepare your egg for decorating is to decide if you will blow out your egg or hard boil it.
If you want to keep your egg ornament for years to come, you will need to empty the raw egg. Otherwise, hard boil your egg for a temporary decoration.
Tip: It's recommended that you dye your egg first if you're going to blow it out in order to make submerging the egg in the dye easier.
Step 1: Make sure your work station is protected with newspaper or plastic.
Step 2: In a large heatproof bowl deep enough to submerge your egg completely, mix one teaspoon of vinegar and 20 drops of food colouring (use more to intensify the colour) in one cup of warm water.
Tip: The vinegar makes it easier for the dye to seep into the shell.
Step 3: Submerge eggs for three minutes for light colours and ten minutes or more for deeper shades. Use tongs to handle eggs easily. Let the eggs dry completely for 20 minutes on a drying rack.
Tip: To make a two-toned egg, dye the whole egg first in a light colour, let dry for 15 minutes, and then submerge half into a darker colour. Or, try using brown eggs to vary shades.
Use this technique for a psychedelic colour egg-sperience!
Tip: Hard-boiled eggs work better for this style because they are less fragile to work with.
Step 1: Over a sink, place one hard-boiled egg in a colander and coat with vinegar.
Step 2: Choose two to three colours maximum. Starting with the lightest colour, drip food colouring on the egg and gently roll in the colander for a few seconds to help spread the colour. Let the colour sit for minimum 30 seconds or more depending on your colour preference.
Step 3: Repeat step two with remaining colours, allowing each to set for minimum 30 seconds.
Tip: To make the eggs extra psychedelic, try wrapping them with two or three elastic bands before dyeing.
Dyeing eggs naturally is easy but requires all pots on deck as each colour needs its own pot to boil in.
Place eggs in a pan and add water until the eggs are covered. Add one teaspoon of vinegar to help the colour seep to the eggs and add your choice of natural dye combinations. Bring the water to a boil, reduce heat and simmer for 15 minutes. Once you are pleased with the colour, remove the egg from the liquid and let dry.
Tip: For a really intense colour, try soaking the egg overnight in the fridge.
Experiment with food stuff such as red onion skins, red cabbage, grape juice, beets, canned blueberries, cherries, turmeric, hibiscus tea, chilli powder or fresh cilantro, and see what surprising colours you create.
Tip: Naturally-coloured eggs won't be glossy but you can rub a touch of cooking oil over the dyed egg to add some shine-time to your creation.
The Basics (easier for pee wee artists)
Use odds and ends on hand at home to add some pizazz to your cre-egg-tion! Markers, paint sets, sparkles, ribbons and yarn work perfectly for decorating eggs without too much time, fuss, or money.
Stickers are a fun, inexpensive, fuss-free way to decorate eggs. Have several packages of stickers available for kids to choose from.
Use equal parts glue and water to make diluted craft glue. Take an already dyed egg, apply glue mixture using a paint brush or sponge to half of the egg. Sprinkle superfine glitter over the glue covered half of the egg. Let dry completely. Cover the remaining parts of the egg with glue mixture and cover with the same or different glitter.
Glam up a dreary egg carton with glitter, stickers or paint and place decorated eggs back in their homeland for a charming centrepiece that won't roll away.
Eggs should be hollow for this display.
Step 1: Thread the ends end of a thin ribbon (approx. ½ cm in width) through a large-eyed needle. Gently pass the needle through the bottom hole of the egg, pulling the ribbon through to the top.
Step 2: Using your finger, create a 3inch loop with the ribbon. Thread the needle back through the egg to the bottom.
Step 3: Double knot the loose ends and trim the excess ribbon. Your egg is ready to be displayed.
Tip: Display your hanging egg using branches from your yard, Pussy Willows or a sturdy house plant.