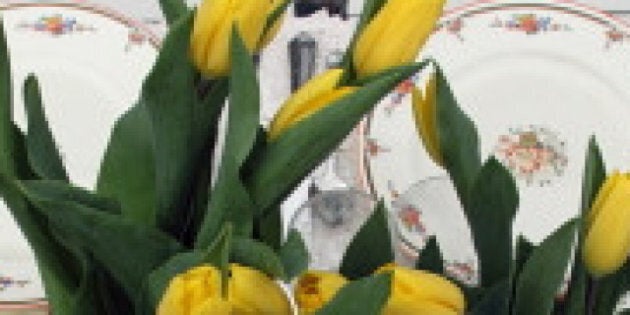 Today, I put together how I plan on dressing the table for Easter. Ideally, I would have loved to boot up to the cottage and put this together in a more picturesque setting, but I just couldn't make it work. So, you are stuck with my 250-square-foot Toronto balcony! Nonetheless, you'll get the picture. I'm not steller with my camera yet, still learning, and I'm defintely not a Photoshop guru -- please excuse!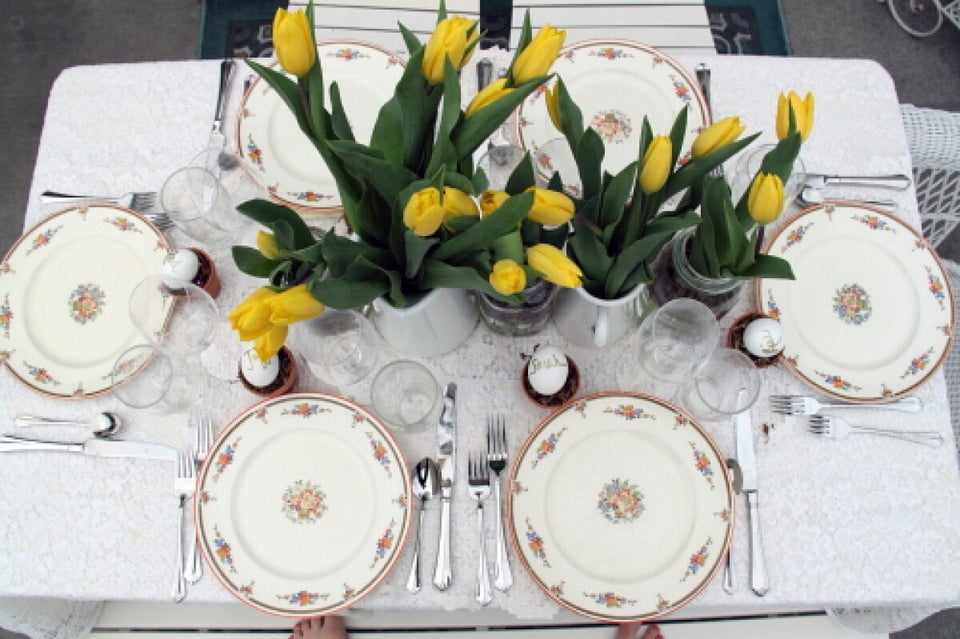 DRESSING THE TABLE FOR EASTER
When planning your Easter festivities, remember to put a little bit of you in every element of the decor. For instance, I love vintage, lace, and old things. With that said, I do like to add an element of new contemporary as well. So when putting together this table setting, I wanted to think about what textures, styles, and elements do I love. And that's exactly what I did.
Step 2: Don't forget the linens, and iron them.
Table linens are important to a properly dressed table setting. You can stick to a neutral palatte or go for something a bit more vibrant or patterned. This is where you can be yourself! I love the layered look; multiple linens all draped over each other; especially when each is a different pattern or texture. I prefer to have at least one table cloth that hits the ground on all sides and then layer on top of that.
Always iron your linens. Even the napkins. It's tacky and just plain lazy to miss this small step. You don't necessarily need napkin rings -- simply place the napkin under the plate, as I did in the photographs.
Step 3: Use the good china.
We all have great dishes that we stash away for "special occasions." Pull out your fancy cutlery, dishes, glass ware, etc. By using the "good china," you will already amp up the table dress and make your guests feel special. "Good china" doesn't have to mean expensive china -- it's about creating a cohesive look. Ikea, West Elm, and HomeSense all have really great dishes, glasses, and cutlery that you can purchase at a fairly low cost. If you are a vintage junky like me, scour the vintage and flea markets in your area for a more eclectic and old look! I like the idea of mixing and matching, so everything on the table isn't so matchy-matchy.
Step 4: Be crafty and DIY
When dressing a table or having a dinner party, it is important to let guests know where you would like them to sit. What's great about this is that you can strategically place your guests to ensure a solid flow of conversation or avoid any conflict about someone wanting to sit in another place. It will be up to them to negotiate a trade.
You can create cute, easy, and cheap placecards. It can be as simple as folding card stock in half and writing someone's name on it, or you can take inspiration from my Easter table setting and script someone's name on a hard boiled egg.
Step 5: Always have fresh flowers.
Never underestimate the power of fresh flowers. Fresh flowers add a burst of colour and really shout out that it's SPRING! Forget vases; find other interesting ways of displaying your flowers. I used vintage mason jars found at a local flea market and two whitewashed jugs from Ikea.
Step 6: Know how to set a proper table.
Think about the formality of your Easter meal and ensure you know how to set the table accordingly. If you aren't sure, look it up online. Here is a link to etiquette guru Emily Posts, "How to set a basic table."
I like making beautiful tables for holidays. Considering you spend a majority of the holiday eating and drinking, it is important that you take the time and put some thought into it. People will notice, remember, and definitely appreciate.