Holiday party season is just around the corner (kicking off with Thanksgiving on October 8), so what better time to chat about easy appetizer ideas than now?
While whipping up some puff pastries is an option, we suggest you hop on board one of the latest food trends and prepare a meat and cheese tray (charcuterie) for your guests. Pulling a plate together need not be hard, say Marco Contardi and chef Joe Friday of Alimento Fine Food Emporium in Toronto.
All you need to do is follow some of their expert advice.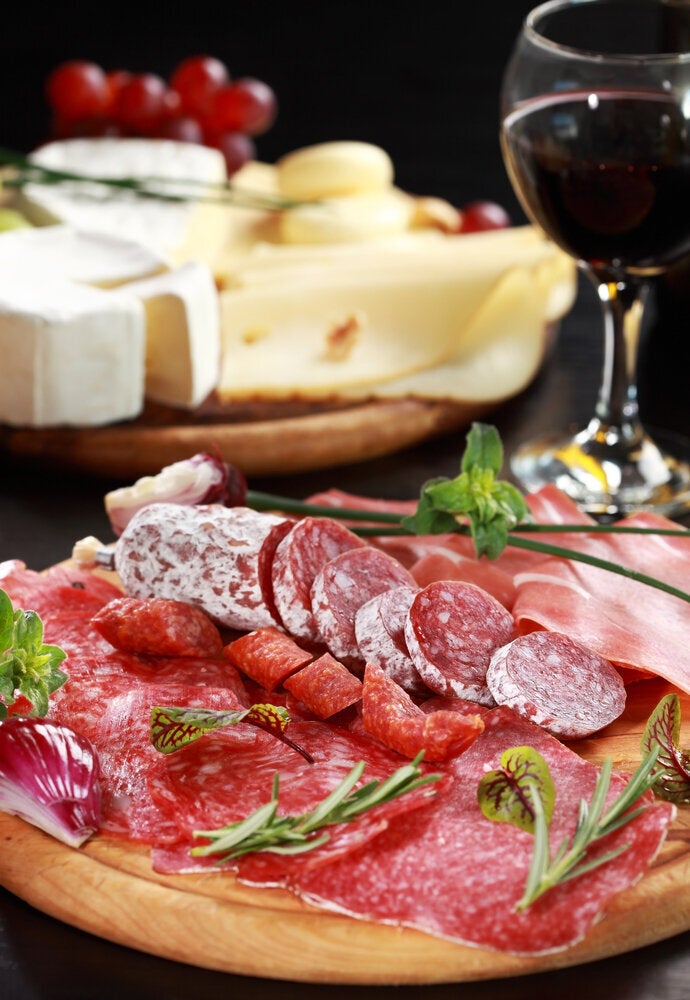 10 Tips To Build The Ultimate Cheese And Charcuterie Tray
What Cheeses And Meats Should You Use?
The best cheese and meat boards are diverse -- don't be afraid to experiment. Try to include at least one cheese from each of these predominant category:
1) A fresh cheese (fiore di latte and/or burrata)
2) A soft-ripened cheese (camembert and/or brie)
3) A semi-soft cheese (friulano, havarti and/or gouda)
4) A firm cheese (piave, spillembergo, aged provolone and crotonese)
5) A hard cheese (grana padano and parmigiano reggiano)
6) A veined cheese (gorgonzola and/or stilton)
If you want to add in meats, there should be an array ranging from smoky speck to a cooked item, like mortadella or a bacon-like pancetta. You may also want a cured sausage like salami or aged items like bresaola and especially the renowned prosciutto di parma.
Too Much, Too Little… How Much Should You Buy?
Since the cheese board is likely to be a starter to an abundant meal to follow, a recommended quantity is one to two ounces of cheese and three slices of meat per person. Remember, you're trying to delight your guests' palate, but keep their appetites intact for later courses.
What Do I Plate It All On?
Take the time and plate it right since it's Thanksgiving. Treat the cheeseboard like a centrepiece. Use platters that are both ornate and practical. Food grade wood boards are great; if you have them, marble slabs are the best (flat, rimless and aesthetically pleasing, they're also easy surfaces for cutting cheese on).
To Cube Or Not To Cube...
The look of wedge-cut cheeses is more authentic and requiring guests to cut cheese to their taste adds an interactive element. Only resort to pre-cut tasting pieces (like cubes) out of necessity.
How Many Knives Do I Need To Use?
Always use separate cheese knives for each cheese. This ensures the distinctive notes of each cheese are kept pure. Regarding meat, there is very little risk of intermingling flavours so a simple fork is fine.
What Else Should I Add To The Board?
Surrounding the board with appropriate accompaniments adds interest and contrasting yet complementary flavours. They also serve as palate cleansers in between cheese samplings and simply enhance all flavours. Notable accompaniments are: dried fruit like apricots and figs; nuts (natural and unflavoured) such as almonds and walnuts; sliced fresh fruit with mild notes like pears (or with a slight tang like apples). Meats are robust in flavour and their pleasantness is heightened by cured olives. The gaeta and cerignola species are marvelous. Also, accompanied meat with fresh fruit, like figs and melon, is divine.
What Condiments Should I Add To The Plate?
Condiments, condiments, condiments! Use them. They enhance the flavours of cheeses. The best ones to use include: wine-based jelly; lightly sweetened, concentrated fruit-based jams (pear and fig are ideal); fruit compotes; honey; and, especially, a product from Cremona, Italy, known as mostarda cremonese, which is a condiment made of candied fruit and a mustard-flavoured syrup. Finely sliced meats are best as is; adding the above alters the taste too much.
What Type Of Crackers Should I Use?
As a textural contrast, serve crusty bread, plain crackers, plain breadsticks or plain crostini. Mellow tasting items such as these achieve the texture contrasting element while their subtleness allows the flavour profile of the cheese to be at the forefront and untainted.
When Should I Pull The Platter Together?
Arrange the selected cheeses anywhere between 30 to 60 minutes before guests arrive to bring the cheeses to room temperature and optimum flavour; 15 to 20 minutes ahead is ample for plating the meat.
Now, What Type Of Wine Should I Serve?
Does cheese enhance wine or does wine enhance cheese? Don't worry about it -- just combine the two. Some brilliant pairings to the cheese categories listed above in tip number one are:
1) San Giovese and Pinot Grigio
2) Sauvignon Blanc and Pinot Noir
3) Zinfandel and Riesling
4) Chianti and San Giovese
5) Chianti and Barolo and Brunello
Get more food and drink ideas on Pinterest
Popular in the Community