Eat, Pray, Love author Elizabeth Gilbert has revealed that she's in love with her best friend, who happens to be a woman.
The author split from her husband José Nunes — known as "Felipe" in her bestselling book — this past July, and admitted that this was because she fell in love with Elias. In the Facebook post, Gilbert says she realized she was falling in love with her friend after she was diagnosed with her illness.
She writes: "In the moment I first learned of Rayya's diagnosis, a trap door opened at the bottom of my heart (a trap door I didn't even know was there) and my entire existence fell straight through that door. From that moment forward, everything became about HER. I cancelled everything in my life that could be cancelled, and I went straight to her side, where I have been ever since."
Gilbert also makes a point of saying that her feelings for Elias is a love that runs deeper than the love friends have for each other. "She's my best friend, yes, but it's always been bigger than that. She's my role model, my traveling companion, my most reliable source of light, my fortitude, my most trusted confidante. In short, she is my PERSON."
She continued: "Death — or the prospect of death — has a way of clearing away everything that is not real, and in that space of stark and utter realness, I was faced with this truth: I do not merely love Rayya; I am in love with Rayya. And I have no more time for denying that truth. The thought of someday sitting in a hospital room with her, holding her hand and watching her slide away, without ever having let her (or myself!) know the extent of my true feelings for her...well, that thought was unthinkable."
"From that moment forward, everything became about HER."
The "Committed: A Love Story" author also mentions that she is making her relationship with Elias public because, as a person who "lives her life in the public eye," she has always believed in "truth and transparency," although she notes that she waited a bit before making the announcement so she, Elias and their families could enjoy a "cocoon" of privacy.
"So. Here is where we stand now: Rayya and I are together. I love her, and she loves me. I'm walking through this cancer journey with her, not only as her friend, but as her partner. I am exactly where I need to be — the only place I can be," Gilbert writes.
Gilbert also posted a Twitter note thanking readers and fans for their love and support after her announcement.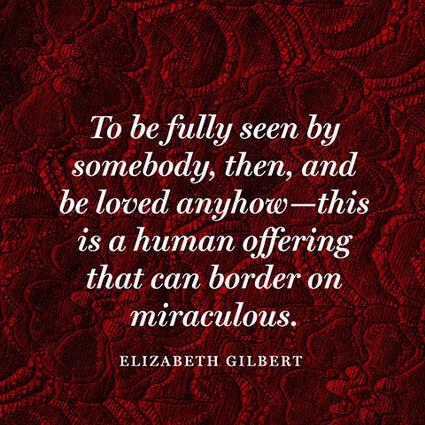 Elizabeth Gilbert Quotes
Popular in the Community