Life is hard enough for a person with dementia and their loved ones — eating a meal shouldn't be a struggle.
Yao was inspired by her late grandmother, who was diagnosed with Alzheimer's and passed away in 2012. Helping to care for her, as well as volunteering in adult care centers, she learned that eating was one of the most difficult activities for people with the disease.
"I realized there were many people who have the same problems as my grandma. They often ate less than they should, and accidents with spilled food and tipped cups were common," she wrote on the product's website.
"For many families, meals are a time for sharing and reconnecting, and enjoying each other's company. When the disease affects one member of a family, the mealtime experience can become stressful and challenges are created for both caregivers and their loved ones."
The brightly-coloured items are designed to address several motor and cognitive problems. There are also two sets — yellow for solid foods and red for soups and other liquids.
The colours weren't an accident. A 2004 Boston University study found that participants with Alzheimer's consumed 25 per cent more food and 84 per cent more liquid when eating from red dishes as opposed to white ones.
The bowls also have a slanted base that allows food to fall to one side for easier scooping, and one side is right-angled for the same reason.
The spoons, which are available for right and left-handed users, are designed to match the curve of the bowl, and the handles match the hand's natural alignment. The cup has a wide base and longer handle to stop tipping, and a lid that holds a straw. The set also includes a tray with small openings for a napkin or tablecloth to make clean-up easier.
The genius of her creation hasn't gone unrecognized by the masses, either. The set won first place in the Stanford Center on Longevity's 2014 Design Challenge.
"The beauty is in the way that small design decisions were made with intentionality and with lots of testing with actual users. It is a wonderful example of user-centered design," said Ken Smith, the centre's director of mobility and one of the challenge's organizers.
But most importantly, it will hopefully make a big difference to caregivers and their loved ones. Jenna Hulsey is one Indiegogo supporter who eagerly anticipates receiving her set.
"My mom has advanced dementia at a very young age and one of the most saddening and frustrating parts of this journey has been her loss of independence, especially the ability to feed herself. I can't wait to try this with her, thank you so so much for using your gifts for good!!"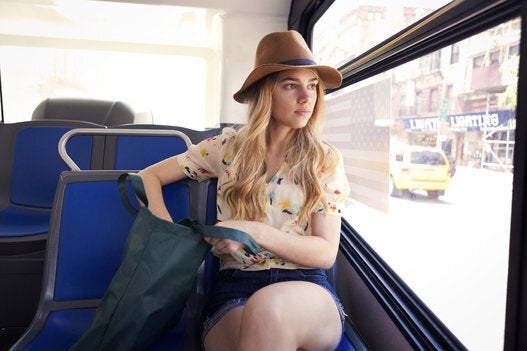 10 Symptoms For Alzheimer's
Popular in the Community