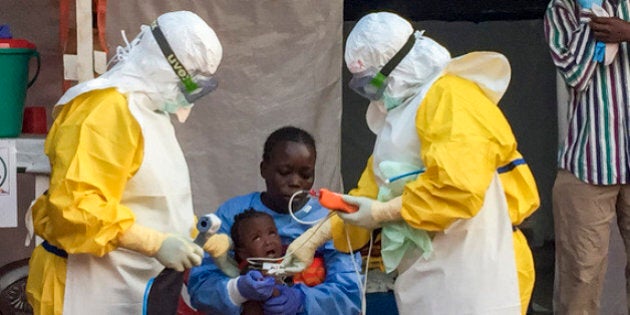 When Malvin (not his real name) arrives for his weekly check-up at a newly opened Ebola survivor's clinic at the Prince of Wales centre in Freetown, Sierra Leone, he is the day's last patient. The clinic is located next door to what was recently an overflowing Ebola treatment centre, something that already seems like a distant memory: The grounds have been disinfected and the medical structures have been decontaminated and destroyed. On this day, children have re-entered the premises for their first day of school in over a year. If all goes well, Malvin will soon join them in their studies, rather than studiously fighting for his life against the Ebola virus.
I am in Sierra Leone to visit some of the Ebola treatment centres run by Doctors Without Borders/ Médecins Sans Frontières (MSF) in response to the West African epidemic that began just over one year ago, and I met Malvin while touring the Prince of Wales facility. That this and other Ebola centres are closing is a sure sign case numbers have plummeted from the historic highs seen in the outbreak. And yet now, perhaps, the hardest tasks remain. "Getting from 100 to ten Ebola cases was easy," says one doctor from Guinea. "Getting from ten to zero will be infinitely harder."
"People are shaking hands again"
Complacency and a reduction in vigilance is a natural reaction when threats recede, as seems to be the case with Ebola in parts of West Africa. In Sierra Leone, people are smiling, shaking hands and hugging again. With no new cases having been detected in the capital in some time, and most remaining cases occurring deep in the bush near the border with Guinea, people in Freetown see the disease as something far away.
This trend is also apparent on a visit to the MSF treatment centre in Magburaka, where I am joined by Canada's chief public health officer and the head of the Canadian Red Cross. We hear how the reduction in case numbers is becoming more difficult for staff members, who must remain on standby even while patient loads dwindle and sometimes disappear. The centre, an impressive set-up with 80 patient beds, has just one remaining patient. Ali has recovered well from Ebola, but a small viral load remains stubbornly in his system. The microbiology lab workers at the centre -- from the Public Health Agency of Canada's National Microbiology Laboratory in Winnipeg -- test him daily, and are confident that in one or two more days Ali will be going home. In what I remember of the local dialect, I call out to Ali across the orange fence and the safety zone separating us. "How di bodi?" I ask, and with a big toothy green he shoots back, "Di bodi fine!"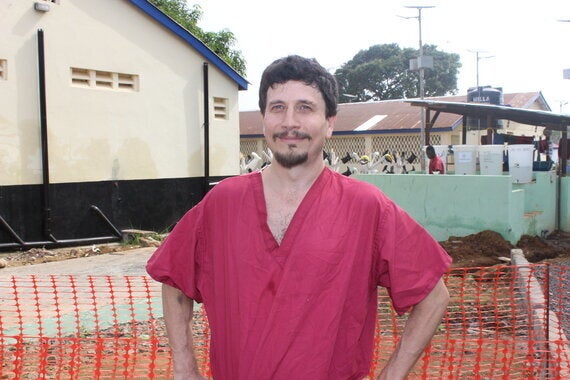 Stephen Cornish of Doctors Without Borders Canada in Sierra Leone.
But the optimism that accompanies these lower case numbers may be premature. In the few short hours of our visit to Magburaka, four ambulances arrive, filled with unconfirmed but suspected new Ebola cases -- suggesting that those ready to declare West Africa's victory over Ebola are getting ahead of themselves.
From Sierra Leone, I head to Guinea, where the current epidemic began. I am struck by the reduced vigilance and lower sensitization efforts compared to Freetown, where wall-to-wall billboards and public health messages exhort passersby to be aware of the signs and symptoms of Ebola, extol the importance of the fight against the disease, and remind people who to call in case of symptoms.
Slipping through the cracks
That said, an important and well-coordinated campaign is underway in Guinea to find people who may still be infected with Ebola, in order to provide the care they need and hopefully stop the transmission of the disease. In one four-day effort, about ten people were located, against the 100 or so the experts expected. Five of those were already deceased, suggesting people are still failing to seek care, and aren't being monitored. In one case, 11 family members of a recently deceased Ebola victim had fled clear across the country, despite the fact they should have been monitored. The family wasn't located until Day 17 of the virus's 21-day gestation period, and was only discovered after the traditional healer the family members consulted had called authorities when one of the 11 died. That person tested positively posthumously for Ebola, which means there is still no telling how many people this family may have infected while travelling unmonitored.
In fact, of the newly diagnosed cases in Guinea, only 40 per cent have been linked to existing identified cases, which means Ebola is still being transmitted undetected. This will make getting to zero patients that much harder.
The fact that no effective treatment or vaccine exists makes matters worse. Since the discovery of the virus in 1976, Ebola has shared in the unenviable distinction of being one of the world's neglected diseases. With little market incentive to invest in research and development, even promising vaccines were often left dormant on laboratory shelves, untested by the pharmaceutical companies who nonetheless scooped up patents from government-funded labs just in case a profit could one day be turned.
However, several promising clinical trials are now finally underway. This will hopefully give our doctors new tools, and patients improved chances of recovery, next time an outbreak occurs. At MSF's Donka facility in Conakry, the capital of Guinea, front-line medical personnel are participating in efforts to develop a new vaccine, and our patients have been invited to voluntarily take part in an innovative trial that uses plasma extracted from the blood of Ebola survivors to help improve the recovery of those still battling the disease. With patient numbers declining, however, there is growing pressure to overlap competing studies using the same pool of participants -- something that could very well undermine the effectiveness of the process.
Umaru, left, an Ebola survivor, chats with Alex, a psychologist with Doctors Without Borders at the organization's survivor clinic in Freetown, Sierra Leone. (© Sophie McNamara/MSF)
As for Ebola's survivors, we are told that some have been turned out by their families or chased from their communities. Yet many also have a newfound resolve, and are determined as a group to make the most of the second chances they have been given by defying death. On the wards at Donka, we meet one such survivor, a beautiful young woman who has returned to MSF's treatment centre not as a patient, but to care and comfort the young children of current patients. She seeks no compensation or reward, and wants merely to help.
The solidarity and courage of the patients and staff at these Ebola centres is an amazing reminder of the best humanity has to offer. When the Ebola crisis in West Africa first began last year, many in the world responded by looking the other way. Hopefully, these patients and their caregivers will remember the valiant efforts of all those who instead joined the fight: those who engaged tirelessly in the struggle, working one day at a time in order to save the lives they could, and who made possible the wider and still ongoing effort to get to zero -- and to declare West Africa Ebola-free.
Residents of Freetown were reminded of just how hard that could be on the day before I left West Africa, when four fishermen plying their trade along the Sierra Leonean coastline returned to the capital in a feverish state -- breaking the run of good fortune and restarting the countdown clock. How many others they may have infected is as yet unknown. What is clear is that vigilance and several more months of backbreaking surveillance, case-tracking and manning treatment centres will yet be required before there is any chance of marking 42 days without a new case. So long as one case remains, the Ebola wave can come surging back.