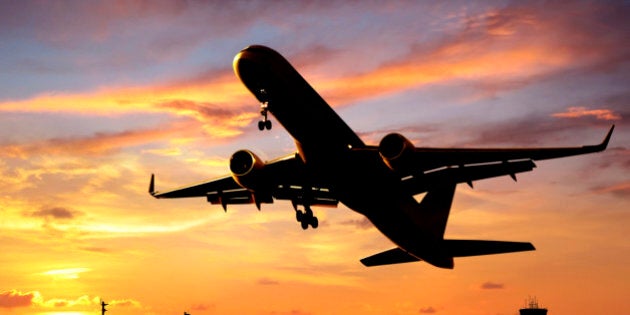 I spend a lot of time thinking about how airports can balance the growing global demand for air travel with the impact our operations have on climate, the health and well-being of our eco-systems, and all aspects of sustainability. The world of global travel is changing. It's becoming more accessible and affordable; some might even say it's a necessity. Experts predict that air travel will double by the mid-2030s. It's boosting our economies, creating access to opportunities in local, national and international markets, and fueling adventure like never before. But it's also impacting our planet.
Even as we all start planning for those big summer trips, we need to stop and take notice. It's important that we remain aware of our individual impacts, and actively consider how we can all make a change--even if it's a small one.
Take the aviation industry, for example, which currently accounts for roughly two per cent of global GHG emissions, and up to nine per cent of the total climate change impact of human activity. With global travel and tourism poised for continued annual growth at a rate of 3.8 per cent over the next 10 years--equivalent to $11.4 trillion in worldwide revenue--airports are busy preparing by adopting cutting edge technologies and implementing innovative approaches to reduce harmful operations outputs.
Below are four airports who received global recognition for their commitment to sustainability and their "love thy planet" mentality.
As the sixth busiest airport in the United States, Denver International accommodates more than 54 million passengers annually, and generates more than $26 billion a year for the state of Colorado.
Denver is home to one of the largest alternatively fueled, compressed natural gas (CNG) vehicle fleets in the U.S., and a comprehensive recycling program that re-uses everything from oil and tires to aircraft deicing fluid (ADF).
Denver is recognized for being:
the first international airport in the U.S. to have a certified Environmental Management System (EMS)
the first airport to be accepted by the U.S. Environmental Protection Agency for their National Environmental Performance Track Program.
Dallas/ Fort Worth (DFW) International Airport services more than 204 global destinations, is the 9th busiest airport in the world, and employs over 143,000 people in the northern Texas area. It welcomes more than 64 million passengers annually, contributes more than $37 billion to regional economic development, and is a major player in the local and surrounding community.
DFW aggressively promotes energy efficiency as a fundamental business strategy, and has gone above and beyond in leading by example.
Most notably, DFW was awarded by the U.S. Environmental Protection Agency (EPA) with a membership to the Green Power Leadership Club for its efforts to purchase more than 30 per cent of the airport's electrical needs from renewable wind energy resources.
As Canada's flagship airport (the largest and busiest), our operations support more than 400,000 flights a year to accommodate more than 41 million passengers annually--that's more than our country's population!
We've got a big footprint, and for this reason, we've invested in a number of projects to help preserve our surrounding community. In 2009, Toronto Pearson committed to an aggressive goal for 2020 of reducing greenhouse gas (GHG) emissions by 20% from its 2006 emissions benchmark. As a result, we're among only 10 North American airports to receive an Airports Council International (ACI) Level II Airport Carbon Accreditation for GHG initiatives, and will work towards our Level III later this year. To help reach the GHG reduction goals, Toronto Pearson has implemented:
Pre-conditioned air/400 Hz power to eliminate use of aircraft engines while parked at gate; and
A LINK train to eliminate inter-terminal busing.
And we've helped to create Partners in Project Green, which is one of the largest eco-business zones in the world.
Honolulu International Airport is home to the 12,000 ft. Reef Runway--the world's first major runway built entirely offshore--and through this runway, became the first airport to ever file an Environmental Impact Statement (EIS).
Honolulu International has also sought to protect its native wildlife, namely, the Hawaiian Stilt. To protect the rare and endangered species sensitive to the impact of construction, the airport transformed Keehi Lagoon into a small island, and developed two large bird sanctuaries in nearby Pearl Harbour.
Honolulu also remains committed to the reduction of its greenhouse gas (GHG) emissions, and received a Level II Carbon Accreditation for its GHG initiatives.
The above four examples demonstrate that where there's a will, there's a way. Large scale operations like airports can make the biggest impact with only the slightest tweaks, and airports are living out this mantra by finding unique ways of addressing environmental concerns.
In addition to Toronto Pearson's efforts, a number of fellow Canadian airports are upping the ante in the name of environmental prosperity, for example:
Vancouver International was the first Canadian airport to install a green wall (now the largest living wall in North America), home to 28,249 plants.
Montreal-Trudeau International has planted more than 800 trees, 10,000 shrubs and 39,000 perennials as part of their extensive greening program to combat 'heat islands' generated by asphalt surfaces.
While there's no doubt the environmental game is more of a marathon than a sprint, we should be constantly asking ourselves what we could be doing better. Whether you're approaching it as a business or as individuals, every small contribution can make a difference.