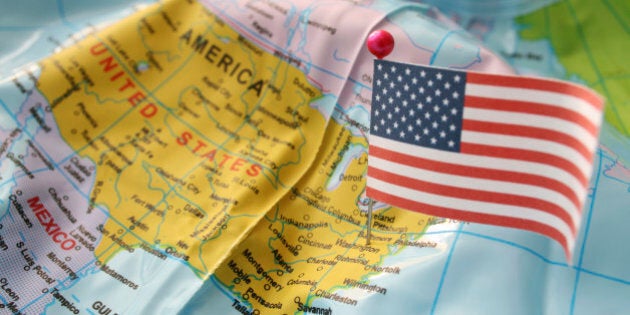 So much for Canada's economic miracle.
After years of stagnation, the U.S. economy is set to outgrow Canada's for at least the next two years, according to a forecast from CIBC World Markets.
It's not all bad news: The bank sees Canada's economy strengthening somewhat next year, thanks to that economic growth in the U.S. helping Canadian exports, and also thanks to a weaker loonie that will make Canadian products cheaper on the global market.
But it is a sign that Canada's unusual economic resilience in the years since the Great Recession is coming to an end. CIBC predicts the U.S. economy will grow 3 per cent next year, compared to 2.3 per cent for Canada. It expects the two economies to grow at those rates again in 2015 as well.
Canada's advantage in the job market also appears to be waning. A Bloomberg survey carried out this fall estimated Canada will have a slightly higher unemployment rate (7 per cent) next year than the U.S., expected to clock in at 6.9 per cent. (Canada's unemployment rate has been at 6.9 per cent for the past two jobs reports.)
Unemployment rates aren't easily comparable, though, because they don't take into account the number of people who have left the workforce, unable to find work. It's estimated a much larger proportion of the U.S. workforce dropped out in the wake of the recession than was the case in Canada.
The CIBC forecast sees good and bad on the horizon for Canada's economy, with consumer spending and government spending decidedly on the "bad" side.
Consumers are tapped out from years of growing debt burdens, CIBC suggested. New numbers from StatsCan, released Friday, showed Canadian household debt rising to a record high of 163.7 per cent of annual income. That means Canadians owe, on average, nearly $1.64 for every dollar they earn.
The report notes that wage growth has been weak, making it hard for Canadians to take on more debt.
Austerity measures being carried out by the federal and many provincial governments will also be a drag on the economy, CIBC said, as growth in government spending will be weaker than overall economic growth.
On the bright side, a sinking loonie and improving business conditions outside Canada will help exports, CIBC said. It noted that factory closures are dampening the good news for export-dependent manufacturing jobs, but expects there to be a pick-up in exports of machinery, lumber and metals.
"Add it all up, and Canada's economy is yet again waiting for a helping hand from abroad to push growth forward in 2014," the CIBC report said.