By Rachel Schrader, with files from Kathryn Reid
Despite his raggedy appearance, a beloved stuffed 'Puppy' is all my two-year-old daughter needs. Eliana loves Puppy unconditionally, and the tears flow quite heavily if she has to leave the house without him.
Right now, my daughter needs Puppy more than ever. I've just returned to work after giving birth to my son a year ago, and the transition to not having me at home has been tough for Eliana.
As adults, especially parents, we often view toys and stuffed animals as just 'stuff', things that get in the way or that we trip over. To a child, however, that specific toy or stuffed animal can be the whole world. It's their comfort during the day, and what they need to fall asleep at night. This morning, Eliana was heartbroken when I left Puppy at our house as we headed out the door to daycare.
Thinking of children in Ecuador
When I remember how devastated Eliana looked when she had to leave Puppy behind, I began to get the smallest glimpse of how the children who survived the recent earthquake in Ecuador might feel.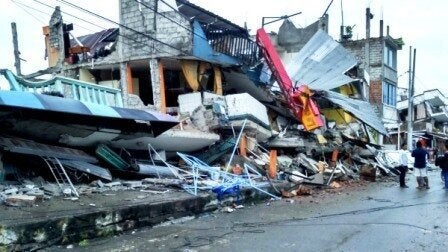 Children whose homes were destroyed in the earthquake are not leaving behind their beloved items for just a few hours, but forever. Eliana is sad to say goodbye to Mommy for the day, but some children in Ecuador have lost their parents forever. They were taken too soon by a natural disaster.
Diego Rivadeneira, a member of World Vision's team in the region shared the following tragic example:
"Early in the morning on Sunday, I was notified that my cousin who lives in Pedernales, one of the most affected areas, died when her house collapsed. Her husband was able to rescue their children, a four-year-old girl and the baby she gave birth to just three months ago."
"We were devastated. My young cousin was so happy weeks ago celebrating the new member of their family. Their house is totally destroyed and they have lost everything. I know that everything can be rebuilt but lives cannot."
In the midst of tragedies like these, the child-friendly spaces like the ones World Vision is providing for children in Ecuador can be crucial. In the midst of chaos, they are safe areas where children can play and begin the long process of healing from their grief.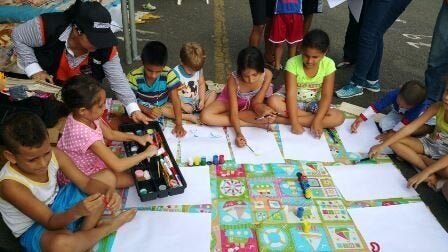 It's amazing how natural play can be, even for children who've sustained unthinkable loss. World Vision staff are on-hand, sensitively responding to whatever needs the children may have.
Many of the children our teams meet want little more than to just 'be kids' for a few hours. Our staff provide activities, like the chance to draw or play with toys, or an opportunity to join a game or some singing. For the children who are ready and interested, we offer help in keeping up with schoolwork.
Child-friendly spaces give our staff a chance to identify which children might need protection. In a crisis like an earthquake, children are sometimes found wandering alone. They might have been injured, or even abused. In cases where family members can be found, the child-friendly spaces serve as central locations where families can be reunited.
Welcoming children in Ecuador
To help children affected by the earthquake in Ecuador, World Vision opened two activity centers for children and adolescents this week, one in Portoviejo and another in Santa Ana Canton.
"Right now, our primary concern is ensuring the needs of children and their families are met," says World Vision's national director in Ecuador, José Luis Ochoa. "Child-friendly spaces give us a chance to care for children who are coping with overwhelming emotional distress."
Although nothing can replace what they've lost, it's our hope that children visiting a child-friendly space can find some sense of comfort, peace and familiarity in a situation where the world has turned upside down. For a few hours, they can be kids again.
Follow HuffPost Canada Blogs on Facebook