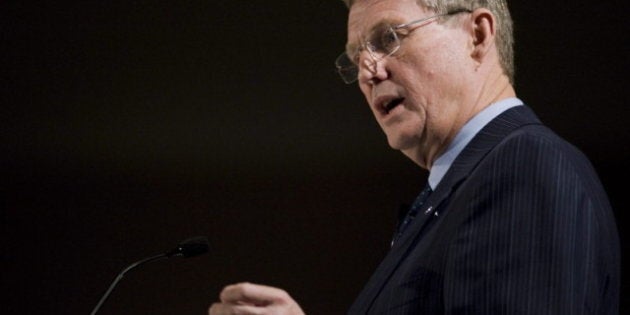 The head of one of Canada's largest banks is warning that the country is facing a financial crisis of similar proportions to those seen in the U.S. and Europe -- but Canada is suffering from a "cone of silence" around its long-term problems.
Ed Clark, CEO of TD Bank, also encouraged the Occupy movement to "stick to [their] guns" and said it's reasonable that the movement's demands are vague.
Speaking at the Ivey Business Leader Award Dinner in Toronto Wednesday night, Clark said Canada, like other Western countries, faces a crisis created by slow growth and changing demographics.
As the population ages, demand for government services will grow, but slow growth in the wake of the 2008 financial crisis means tax revenue won't keep up with the demand, Clark said.
He suggested Canada could face a "Japan scenario," where low growth keeps interest rates low for a long time, and those low interest rates will mean that retirement pensions won't grow as much as retirees had expected, potentially ruining an entire generation's financial plans.
"We have hardly begun to appreciate the implications of such a state of affairs," he said.
Clark also said the slow-growth economy is exacerbating income inequality in Canada and elsewhere, but "wedge politics" -- pitting one group against another -- are making it difficult to introduce policies that would address the problem.
"Globalization may make the world better off, and makes those in the western world with highly valued skills better off. But others are falling behind. ... The middle class has shrunk. And the working class struggles. While the highest income earners have become better off," Clark said. "Without fully understanding all the forces at play – people get it. They recognize the prize has just got smaller – and their instinct is to protect their share."
Though the TD Bank chief noted that "this discourse has remained relatively muted in Canada," he warned that the global trends "are putting pressure on societal allocation of resources. And so we should not be complacent nor too reliant on Canadians' natural desire to find consensus."
To that end he urged business leaders and politicians to "stand against divisiveness and political extremes."
Clark had some encouraging words for the Occupy movement. Asked by the Toronto Star what he would tell the protesters, he said: "My main advice is stick to your guns. When people say, 'You don't have a solution,' say, 'Of course we don't. If there was a solution, don't you think people would be doing it?' To ask the people who occupy Wall Street or Bay Street to have a full answer is absurd. They're doing their job which is to say, 'If you think this [system] is working for everyone, it's not.'"
In his speech, Clark suggested that the Tea Party movement and the Occupy Wall Street movement are two sides of the same coin, reactions to increasingly difficult and unjust economic circumstances.
"Their message is the same -- they don't like how the world is turning out," Clark said.
"This reflects the fact that Canada's financial institutions and housing market did not suffer a collapse during the global financial crisis," the report stated.
In U.S. dollar terms, Canada's share of global wealth now amounts to $245,000 per adult, compared to $248,000 per adult in the U.S.
5 Signs Canada's Economy Is In Trouble