The Edmonton International Airport has brought in a band of furry friends to help calm frazzled fliers.
A group of pet therapy dogs visit the EIA several times a week to help calm anxious travellers before their flights.
"Travel really can be a stressful experience," EIA's director of communications, Heather Hamilton, told CBC News.
"I think the more ways we can inject a little fun and relaxation into it is definitely something our passengers appreciate."
Story continues after the slideshow: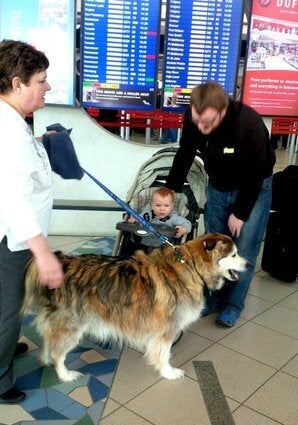 Therapy Dogs At Edmonton Airport
The dogs' owners volunteer to come to the airport, and walk their dogs through the terminals and gates to visit with passengers.
Several U.S. airports offer animal therapy programs, including Los Angeles' PUP Program and San Francisco International Airport's Wag Brigade.
Dog therapy sessions have also proved popular on university and college campuses across the country, with many schools offering "puppy rooms" around exam time.