Several Edmonton streets have been barricaded off after sinkholes were caused by heavy rainfall and sudden flooding in Alberta's capital Tuesday.
The City of Edmonton tweeted that sinkholes appeared at 91 Street and 90 Avenue as well as 50 Street and 90 Avenue.
The heavy rains caused flooding in low-lying areas around the city, prompting the closure of some roads during rush hour.
Story continues after slideshow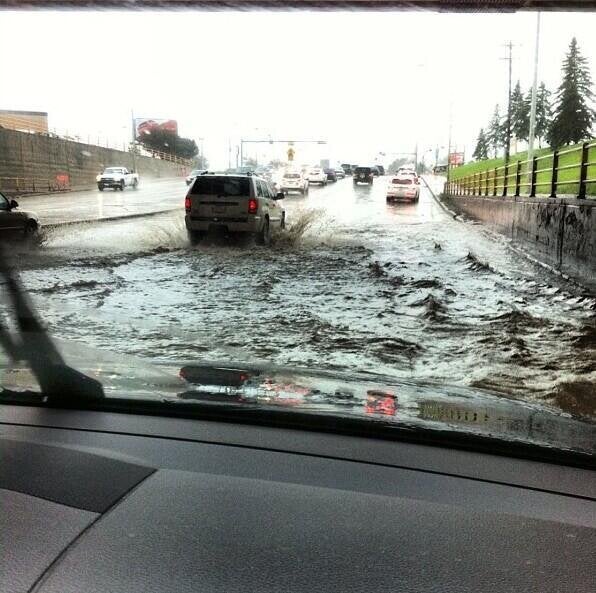 Flooding In Edmonton
Resident Jeremiah Townsend expressed his frustration to CBC, saying he had called the city Tuesday morning to open a storm water gate but no one showed up in time.
"All they literally had to do was come down and turn a brass knuckle a half an inch and this problem wouldn't be here right now. We wouldn't be talking," he said.
According to the Edmonton Journal, within an hour of the rain starting to fall, about a third of a metre of water began to collect in the garages and basements of the Cloverdale condo unit.
However, after a number of calls related to street flooding, the gates were opened - despite protocol saying the river has to be at a required level to do so.
Ward told Metro Edmonton protocol says that the storm gates should only be opened if the river water level is below 6.5 metres. The gates were opened between 6.8 metres and 7.1 metres Tuesday.
City services fielded more than 90 calls related to flooding and pooling water, reports CTV. Some people had to be rescued from their cars after rising flood waters left them stranded.
June has been a soggier month than usual for Edmonton, with rain falling on 21 of the 26 days so far.
"And so when you get these big dumps of 20 to 40 millimetres of rain, the sewer system should be able to handle that, but … we've had for weeks now, rain falling in the area, it puts an extra load on them."