Edmonton often takes it on the chin for how cold it is in the winter (it was -15 degrees Celsius on Friday).
But what if the former "City of Champions" turned its frigid reputation to its advantage?
That's what Matt Gibbs has in mind.
The UBC landscape architecture graduate has proposed a "Freezeway" in Alberta's capital, which would allow people to skate to work and elsewhere.
The proposal comes as part of the Make Something Edmonton initiative, which seeks a "single, uniting story we can all tell about Edmonton."
The "Freezeway," which Gibbs developed as part of his master's thesis two years ago, would be an 11-kilometre greenway with a "winter skating lane" that would allow Edmontonians and visitors to skate around the city.
It would take users between areas such as the Run Way, the Play Way, the MacEwan University campus and the Entertainment District.
In the summer, it could serve as a bike lane.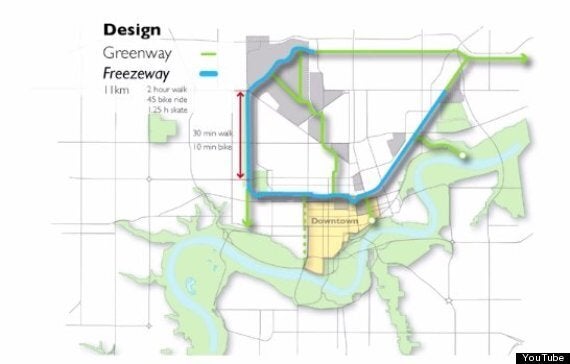 Gibbs is aware that this isn't the first time someone has proposed a skating lane through the city; ex-city councillor Tooker Gomberg had a similar proposal in the 1990s, CBC News reported.
"I think that's absolutely the imagination and inspiration we need in this city," Gibbs told the network.
He went on to say that he has spoken with a number of people on city council about the idea, but has not heard much feedback.
Susan Holdsworth, coordinator of Edmonton's WinterCity Strategy, told Global News that the Freezeway could help revitalize neighbourhoods, but she's not sure it would work in its proposed location.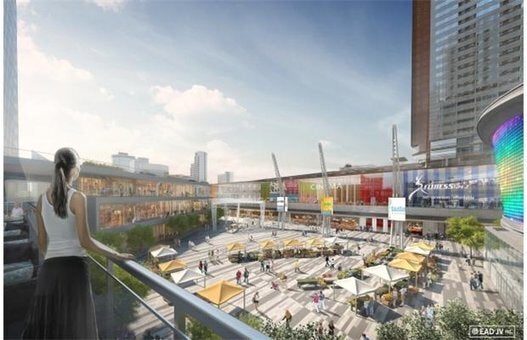 Edmonton Arena District Mega-Project