Men in Edmonton are responding to a controversial men's rights group, making it clear that the "misogynistic" movement isn't a voice for them.
"The idea that they represent all of men's rights is complete fallacy," says Barret Weber, sociologist and instructor at the University of Alberta, in the video.
"This is a voice against fear-mongering politics that shame and oppress the voices of survivors of sexual assault," says another participant.
The speakers in the video say the group promotes misogynistic slander and rape culture, and state that a woman shouldn't have to feel afraid to walk home in her community.
"Don't take an anti-rape poster campaign as a personal attack, unless of course you're a rapist," says one man, referring to the group's claims that the anti-rape posters unfairly targeted men.
The video also tells the group that creating a safe environment in Edmonton, means a safe environment for everyone, including women.
The video comes only a few months after Edmonton police warned women residing in or around the University of Alberta to exercise caution after reports of an assault in August.
Like this article? Follow our Facebook page

Or follow us on Twitter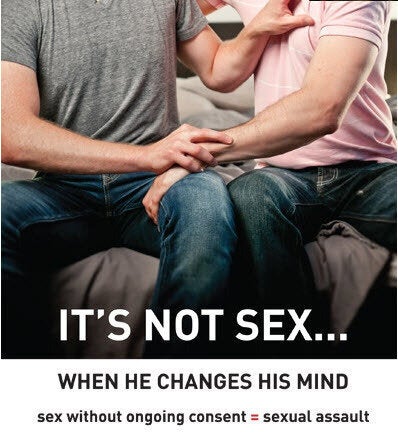 "Don't Be That Guy" Campaign