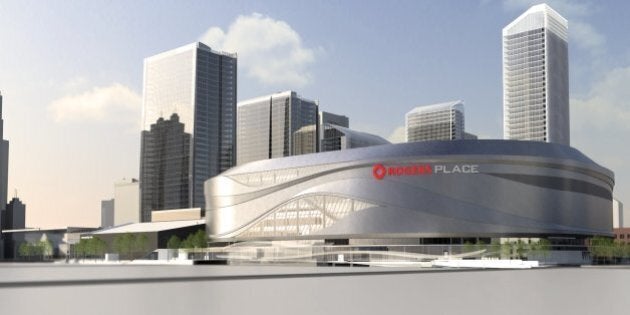 The NHL's Edmonton Oilers played their last game at Rexall Place on Wednesday night, and will head over to the $480-million Rogers Place in the fall. Real estate values -- as well as Oilers fans -- will love the move.
The common belief that new arenas and sports stadiums are slam-dunk wins for their billionaire owners and millionaire players, but big fat goose eggs for the local economy... Well, that could be dead wrong. A report not only suggests the opposite, but says such projects actually boost surrounding real estate values.
The one key proviso -- and listen up Calgary and any other Canadian city proposing a new sports facility -- is that tax increases to help foot the bill can't be part of the plan.
Highlights of the report include:
An arena's positive impact on housing values can be felt most within a five-km radius and has the largest effect when appealing architecture, community plazas, park landscapes, retail, commercial and entertainment spaces, and the stadiums construction itself are incorporated into its design.
A negative effect on property values is felt when the costs of proposed stadium necessitates the increase of property taxes.
Homes in neighbourhoods close to new stadiums, on average, have premiums ranging between three and 15 per cent, depending on the different types of housing, parking options and the distance from the facility.
Housing values increase on average 1.75 per cent for each 10 per cent decrease in distance from a stadium, with the positive price increase being highest for homes closest to the stadiums and decreasing gradually outwards within the five-km radius.
When a stadium is located outside the downtown core, and is not connected to any other economic development activities or urban redevelopment program, residential properties around the facility will still see a positive increase in value. However, this increase will not be as dramatic as those that are built in, or with nearby accessibility, to the Central Business District.
While proximity to the stadium usually results in the largest price increases, the regular presence of fans may lead to a constant source of noise, incivilities, traffic congestion and a scarcity of parking. These are all factors with the potential to create a price depreciating effect.
The conclusions are somewhat surprising, given previous perceptions that such projects yield little real economic boost, and that a city's health depends mostly on its economic fundamentals and infrastructure.
"The presence and subsequent impact on value of infrastructure is quite unrelated to the economic fundamentals, which reign as having the most impact on real estate values in the short, medium and long term," says Melanie Reuter, REIN's director of research.
The findings regarding arenas can be likened to the impact of transportation improvements such as LRT stations, she adds. "Think of the infrastructure findings (transportation and arenas) as a micro effect, compared to broader and deeper fundamentals. So, once you choose a place to invest based on strong fundamentals, give yourself an additional lift by investing around an arena or an LRT station."
In Canada, while hockey may be the number one sport, a project's positive impact on real estate values is unrelated to the type of sport -- or even whether a team is a winner.
"Surprisingly, type of sport and whether a team is winning or losing has little impact on the results," Reuter says.
More important factors are proximity to downtown (positive), ample parking (poorly planned or non-existent parking can have a negative impact on values) and integration with the surrounding community. Incorporating mixed and constant uses -- think bars, offices, shops, outdoor spaces -- was also key, as was access to good transit.
"Equally important is nearness to the arena," says Reuter. "Properties within walking distance (one kilometre) saw the biggest price jumps, and the impact diminished the farther out one went, until there was no impact past four kilometres."
Edmonton's Rogers Place, future home of the NHL's Oilers currently under construction and scheduled to open for the 2016-17 season, is a good example of a pro sports facility with spinoff benefits to the local economy. It is being constructed in the heart of downtown Edmonton, has well laid-out urban design plans, and excellent links to public transportation, REIN says. By creating an entertainment district around the arena, hundreds of local amenities will be available for neighbouring residents.
Edmonton neighbourhoods expected to be impacted by the downtown redevelopment spurred by Rogers Place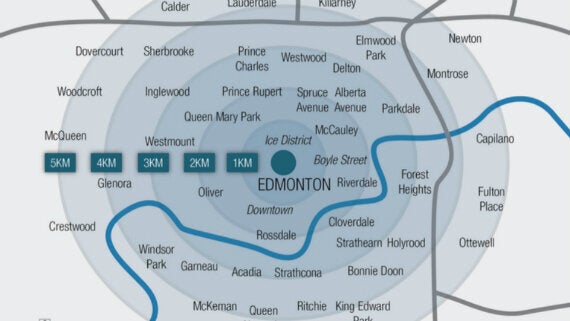 Source: Real Estate Investment Network
The list of planned projects for the Ice District is "staggering," REIN says, with $2.5 billion in downtown development directly connected to Rogers Place.
Projects, all opening in 2016, include:
The NHL arena, with capacity of 18,641 for hockey and 20,734 for concerts
A community arena, home to the MacEwan University hockey teams, practice facility for the Oilers and junior Oil Kings, and available for community rental
Edmonton Civic Tower -- 27-storey tower that will house more than 65 per cent of the City of Edmonton's downtown employees
Grand Villa Edmonton Casino -- 60,000 sq. ft. of world-class gaming, dining and live entertainment
New headquarters for the Oilers Entertainment Group
MacEwan LRT Station, one of three LRT stations within a five-minute walk of the district.
Other components are slated to open from 2017 to 2020, including more than 1,000 residential units, some of which will be premium condos located atop a four-star hotel.
"Edmonton appears to have nailed it on all fronts," Reuter says.
A similar downtown project is under discussion for Calgary. "As long as Calgary follows Edmonton's lead, it should be a successful project for property owners around the project."
Calgary neighbourhoods that could be impacted by the proposed downtown arena project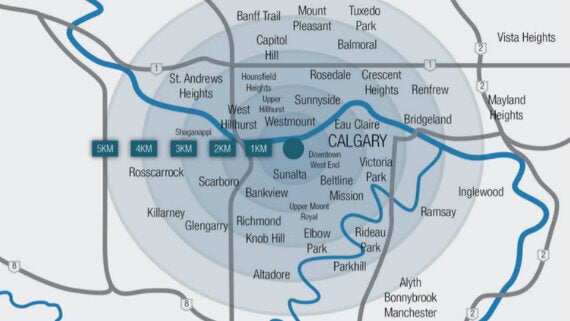 Source: Real Estate Investment Network
Follow HuffPost Canada Blogs on Facebook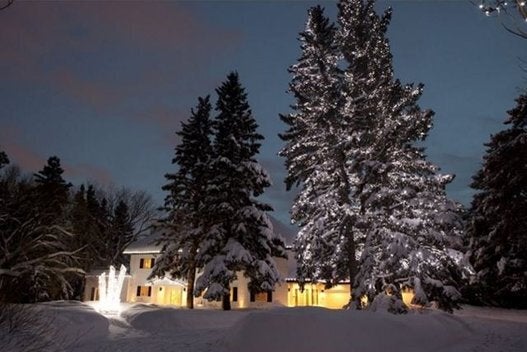 Edmonton's Most Expensive Homes For Sale (March 2016)
Popular in the Community