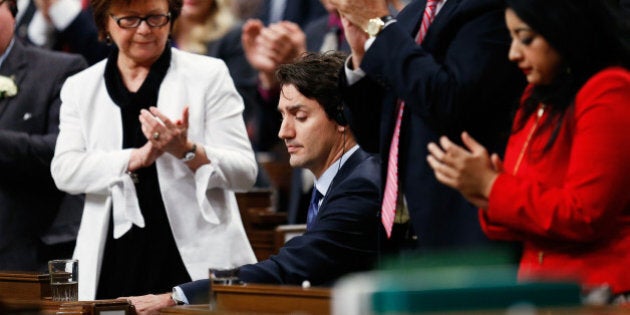 In the incident the media labelled as "elbowgate," Prime Minister Justin Trudeau inadvertently knocked a female MP he did not see. We all can see on endlessly repeated video that he did not see her behind him.
The Conservative whip's arm was touched by the prime minister as he led him past a gaggle of MPs trying to stall legislation. Sole intent: to lead the member to his seat. To vote. No ill intent,whatsoever.
The PM also patted the whip on the shoulder as a "thank you" for the Conservative MP walking to his chair and doing his job as Trudeau headed back to his own seat.
Give me a break, Conservatives
Temp leader Rona Ambrose criticized the PM for not showing her party respect by rolling his eyes.
Well, Rona, you Conservatives don't seem to remember that the majority of Canadians voted your party out of office. So when coming up with the same stupid ideas that were soundly rejected by the electorate, what the hell do you expect?
The majority of Canadians loathe Conservatives for imposing their "evil" agenda on us, so applause to the prime minister for standing up to bullies who want to play games with time management at the House of Commons.
Prime minister's view of Parliament functioning?
We heard from Opposition members about how they were frustrated with the prime minister.
In response, I would like Prime Minister Justin Trudeau to stand up in the House and say what he feels about the Opposition party's performance in Parliament. Let's have an open hearing of both sides. Then take it to committee, together.
In the end, I hope the Speaker will do a more forceful job in getting MPs to be where they're supposed to be. To stop Opposition parties from grunting and making other rude noises in the House.
Hopefully, the prime minister will begin using the sergeant-at-arms to ensure members are not standing around the aisles, chatting.
We saw "angry" Tom Mulcair yesterday. No surprise there! Yet, I do wish these two men from Quebec would bury the hatchet and find a way to work together. Why? It's 2016.
The prime minister of Canada is apologizing, as all gentlemen would in these circumstances.
Notwithstanding these apologies, over the last number of months Justin Trudeau has tried at every opportunity to work with the other parties, to take the high road, but sometimes it's just not possible. This drags us all down into the quagmire of dysfunction we Canadians know our Parliament has been for decades.
Truth is, we human beings don't treat each other very nicely. We're brutal with each other. In our own homes and communities where disputes tear families, churches and people apart every day.
In the highest House in the land, our elite Parliament institutionalizes dissent, complimented by a poor quality of communication in the form of continual opposition where no one appears to be working together. It's barbaric.
Longtime arch-enemy Conservative Peter Kent says the prime minister could use anger management classes. So could you, Peter Kent. So could I. Everyone would benefit from lessons in expressing themselves with more empathy toward others.
Perhaps we all should learn techniques in communication that would enhance a better understanding of each other, so we just don't keep repeating history over and over!
NDP MP Ruth Ellen Brosseau, you need to pick the most important topic you believe Canada is facing, write it down and hand deliver it to Prime Minister Justice Trudeau's office.
Getting to know our prime minister and learning with him in sharing his frustrations is important. It's time people understood Mr. Trudeau's intense hope for Canada's future.
Follow HuffPost Canada Blogs on Facebook