With the way polls are going right now, Stephen Harper will be looking at a very different cabinet if he wins re-election.
While the Conservatives are still in the race against the NDP and the Liberals, the party is down significantly from 2011, when Tories got almost 40 per cent of the vote. Being that far behind means they are bound to lose seats, and some of them could very well be those of incumbent cabinet ministers.
There is no way around it, when a party is down (in a province, region, etc.), the negative swing acts as a wave that affects almost every candidate in the party. It doesn't matter if you are a popular minister — if your party is down 10 points, you'll most likely be down as well.
Here is a list of ministers in danger or special situations. Remember that everything is based on the most recent projections and should be interpreted as "if the election were held tomorrow."
All the probabilities and chances of winning come from 5,000 simulations that account for the uncertainty of the polls as well as for the distribution of the vote and the electoral system. In other words, these simulations try to include every possible scenario, given the information we currently have.
Bernard Valcourt in Madawaska–Restigouche currently has just a 0.2 per cent chance of winning. The Liberal candidate, René Arsenault, has a lead of almost 25 points that will be hard to overcome.
Leona Aglukkaq in Nunavut is also at risk. The model doesn't run simulations for the three territories (because of a lack of polls) but while she won easily in 2011, the Liberals could be very close behind this time around. However, the fact that Stephen Harper has talked a lot about the North could possibly help her.
Gail Shea in Egmont is unlikely to return to Ottawa after Oct. 19. Her current chances are only 37 per cent and, given the Liberals' rebound from 2011, it's likely they'll sweep Prince Edward Island.
Julian Fantino in Vaughan–Woodbridge is anything but safe, with a 66 per cent chance of winning. With Fantino holding only a three-point lead over the Liberal candidate Francesco Sorbara, this is the very definition of a close race.
Joe Oliver, finance minister in the last government, has a tiny chance — only five per cent — of being re-elected. Although the current projections don't account for his increased status after taking over Jim Flaherty as the No. 2 in the cabinet, the odds are still against him.
In Delta, Kerry-Lynne D. Findlay is currently the underdog with a 17 per cent chance. The Vancouver suburbs are likely to be cruel for the Conservatives, who are down significantly in British Columbia, a province that could well give power to the NDP.
Chris Alexander in Ajax is dangerously close to having no chance at all. At one per cent, a victory for him would be one of the great surprises of the election. As usual, the suburbs are regions that are more volatile, and the Tories are down by more than 10 points in Ontario.
Greg Rickford in Kenora is currently in a three-way race where the odds favour NDP Howard Hampton (61 per cent). Rickford is at least ahead of Liberal Robert Daniel Nault (25 per cent chance against 14).
In Cambridge, Gary Goodyear is leading, but 80 per cent isn't a sure thing. It means he could well lose if the polls are overestimating the Tories, although that is something we don't believe to be likely.
John Duncan in Courtenay–Alberni on Vancouver Island has a lot of work in front of him if he hopes to return to the House of Commons. He only has slightly more than a one per cent chance.
Diane Finley in Haldimand–Norfolk is relatively safe at the moment, but a 79 per cent chance of winning doesn't guarantee a win.
Denis Lebel seems to be one of of the few Conservatives safe in Quebec with an 87 per cent chance of keeping his seat, a situation very similar to colleague Steven Blaney in Bellechasse–Les Etchemins–Lévis. If Harper wins again, his Quebec caucus could be even smaller than last time.
Tim Uppal has one of the few seats in Alberta that could go orange. Indeed, the situation in Edmonton Mill Woods gives as much as a 26 per cent chance to the NDP candidate, Jasvir Deol (versus 74 for Uppal). Among cabinet ministers, this isn't the most comfortable situation, and given how the provincial NDP swept Edmonton a couple of months ago, it wouldn't be surprising for this seat to switch.
Alice Wong in Richmond Centre could be another Conservative MP from the Vancouver suburb to lose her seats, although she remains the favourite, with a 78 per cent chances of winning.
Bal Gosal in Brampton Centre could be another victim in a three-way race in Ontario. His 32 per cent chance of winning is higher than the NDP candidate Rosemary Keenan (20 per cent) but substantially behind the Liberal Rameshwer Singh Sangha (48 per cent).
Finally, Ed Holder in London West has only a 27 percent chance, behind both Kate Young of the Liberal Party and Matthew C. Rowlinson of the NDP. All three are within a couple of points of each other, and this is one of the races to follow.
With the potential loss of an important number of cabinet ministers as well as the number of MPs who aren't returning, Harper could have a very new cabinet if he were to win the election.
Given how many voters express a desire for change, the exodus may not be the worst thing for him.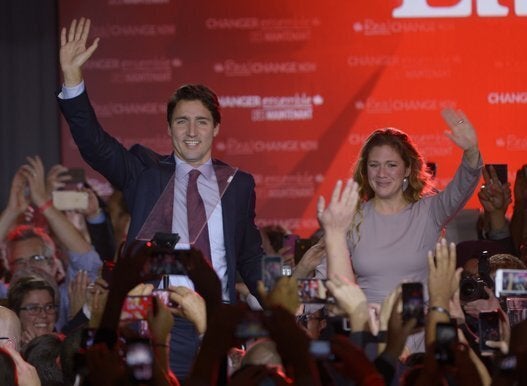 In Photos: Canada Election 2015
Bryan Breguet has a B.Sc in economics of politics and a M.Sc in economics from the University of Montreal. He founded TooCloseToCall.ca in 2010 where he provides electoral analysis and projections. He has collaborated with the National Post, Journal de Montreal and l'Actualité.
He will provide analysis and updates for The Huffington Post Canada throughout the federal election campaign. For riding by riding projections, visit his interactive simulator.

Popular in the Community