New numbers from Elections Canada appear to have blown apart the myth that young Canadians can't be motivated to vote.
According to a report from the agency, the voter participation rate in the last federal election among those aged 18 to 24 jumped by a whopping 18.3 percentage points from 2011. Elections Canada says it's the "largest increase for this age group" since it began reporting demographic data in 2004.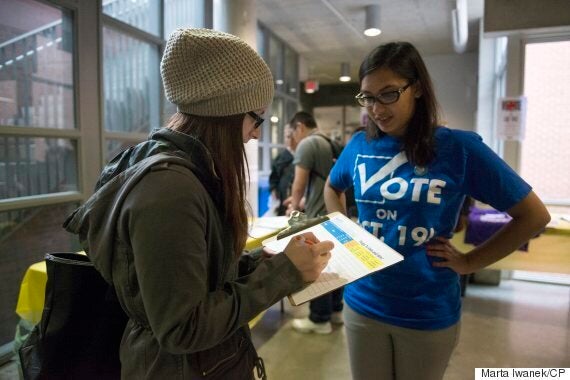 Rabbia Ashraf, vice-president internal at the Continuing Education Students' Association of Ryerson (CESAR) talks to 2nd year student Katey Agnitsch about voting on Oct, 7, 2015. (Photo: Marta Iwanek/The Canadian Press)
The percentage of first-time voters in that younger demographic also increased slightly to 58.3 per cent from 55.1. per cent in the 2011 election.
Among those aged 25 to 34, voter participation spiked 12.3 percentage points to sit at 57.4 per cent.
While the participation rates increased for every demographic in the 2015 election, none compare to the spike seen among young voters.
Among Canadians aged 45 to 54, 55 to 64, and 65 to 74 — long considered the kinds of grown-up, serious voters who ultimately decide elections — the participation rate increased by percentage points of 2.1, 2.3, and 3.7 respectively.
Voters aged 65 to 74 had the highest participation rate last fall at 78.8 per cent.
Elections Canada says the numbers are based on the population of eligible voters, rather than registered voters, to provide the clearest comparison of participation rates over time. That explains the discrepancy between the overall turnout of 66.1 per cent presented in their findings and official voter turnout of 68.3 per cent for all of Canada.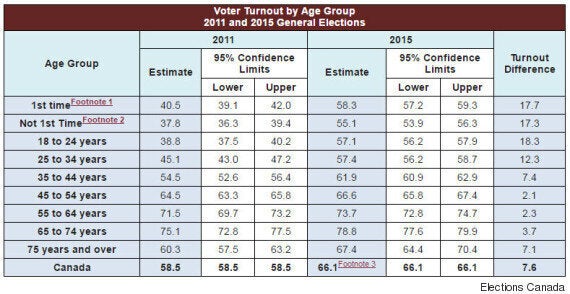 Elections Canada graph comparing age groups in the 2011 and 2015 election.
Just as fewer young voters might have contributed to Stephen Harper's Conservative majority in 2011, some will argue these new numbers confirm youth voters helped to sweep Justin Trudeau's Liberals into power.
'Young people really gave the Liberals a majority'
An Abacus Data poll released in April suggests young Canadians were pivotal to the Grit majority. The online poll suggests that 45 per cent of Canadians aged 18 to 25 voted Liberal, compared to 25 per cent for Thomas Mulcair's NDP and 20 per cent of the Tories.
"Young people affected the last election in a way they haven't in the past," David Coletto, the CEO of Abacus Data, told The Huffington Post Canada in the spring. "We see much higher evidence of a higher turnout among those under 34, and, really for the first time since 1997, young people coalesced around one option."
Coletto concluded at the time that while Trudeau's Liberals likely would have won if the so-called youth turnout stayed where it was in 2011, "young people really gave the Liberals a majority."
Trudeau encouraged youth to vote
In one memorable campaign moment, Trudeau told a VICE town hall that many young people in the country don't think their votes make a difference.
He urged young Canadians to buck the trend and cast a ballot, even if it wasn't for his party.
"Don't kid yourself. If a young person doesn't vote, you are still voting," Trudeau said at the time. "You've actually given a double vote to someone who is voting and may disagree with you."
Watch Trudeau's remarks about voting below:
He also targeted his main rival by stating the Tories changed the Elections Canada Act to prevent Elections Canada from actively encouraging groups that typically don't vote to cast their ballots.
"Let's make no mistake about it, Stephen Harper doesn't want you to vote," Trudeau said. "Stephen Harper is counting on it."
The clip has since been viewed more than 2.8 million times.
When he named his first cabinet in November, Trudeau appointed himself minister of youth.
With files from Althia Raj