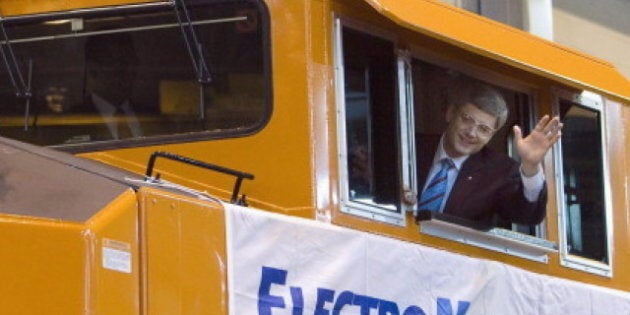 LONDON, Ont. -- On an unseasonably balmy afternoon in January, a few hundred union members, local residents and their families descend on the picket line outside the Electro-Motive Diesel plant in this southern Ontario city, where workers are embroiled in one of the most cutthroat labour disputes in recent memory.
Billed as a "solidarity barbecue," the event is intended to keep spirits high among Electro-Motive's 420 CAW members, who have been locked out of the locomotive assembly plant since January 1 -- and likely will be for some time. Peoria, Ill.-based manufacturing giant Caterpillar, which owns the facility through its subsidiary Progress Rail, barricaded the plant when the union refused to accept a 55 per cent pay cut, a concession labour leaders describe as unprecedented.
As volunteers fire up hot dogs and hamburgers, organizers and politicians deliver impassioned speeches atop a makeshift stage, eliciting enthusiastic applause from the captive crowd and sporadic honking from passing motorists.
"Caterpillar underestimated not only the response of the labour movement but of the response of the community as a whole," proclaimed Tim Carrie, the president of CAW Local 27, which represents the workers at the plant. "This fight will be going on for a while."
But beneath the bravado, there is a nagging sense of fear on the line, where workers are getting a bone-chilling glimpse of what could be the new face of the manufacturing industry. As they told The Huffington Post, they're only too aware that the opponent they're staring down has deep pockets, transnational reach -- and, perhaps most menacingly, a possible alternative to the labour they provide.
It's a scenario that has the union and its members caught between a rock and a very hard place.
Ross Seeley, a pipe-fitter who has worked at the plant for 29 and a half years, says he is "hopeful that [Caterpillar] can wake up and realize that they have a good workforce here that build a world class product."
But when asked about how he thinks the dispute will end, his easy smile fades.
"They can kind of do whatever they want to do. I think they're probably going to close the plant and move it, which is terrible," says Seeley, whose retirement is just six months away, and could hang in the balance. "It leaves you speechless."
The past few years have been turbulent at the London plant. After producing locomotives for General Motors for decades, the firm was sold by the beleaguered automaker to Greenbriar Equity Group and Berkshire Partners in 2005, before Caterpillar took over 2010.
But in the last year, Caterpillar has opened several new locomotive assembly plants, including one in Muncie, Ind., where workers are paid less than what the company is offering its employees in London.
Though there are questions about whether Muncie has the skilled labour required to supplant the experience and expertise of the London facility, some speculate that the lockout may be a precursor to shifting production south of the border.
"This company doesn't need those cuts," says Michael Lynk, a labour law expert at the University of Western Ontario. "There's no economic explanation for this aside from the fact that they think they can [pay workers] $14 or $16 an hour in an economically distressed area of Indiana."
"The tea leaves seem to be pointing in that direction," he says.
But Jonathan Cutler, a labour professor and UAW expert at Wesleyan University, has a different take.
"You do a lockout as a threat to employees that you will just hold out as long as it takes for them to make the concessions you're asking for," he says. "The lockout implies actually that you're going to stay."
Caterpillar has so far been mum on its intentions for the London plant, forwarding an interview request to the Toronto office of public relations firm Fleishman-Hillard.
In an e-mail, senior vice-president Anne Marie Quinn told HuffPost, "The company isn't commenting on operational questions in the midst of the dispute," and offered a link to a website set up by Electro-Motive "to act as a reliable source of information on the London facility."
But the cone of silence isn't instilling confidence in welder Mike Scofield, who says that the threat of shutdown -- however speculative -- is contributing to sleepless nights. He says morale has so far been strong on the line, but as he points out, these are still early days.
"I've been doing the night shift. I've already seen some tempers. People get angry. People get upset, because they're afraid of losing this job, and they're afraid that their families are going to suffer from all this," the 36-year-old says. "We're only in the start of this fight. I'm sure morale is going to drop."
For now, however, workers appear united in their absolute unwillingness to accept the terms of the new agreement, which would cut benefits and slash wages from $35 to $16.50 -- yanking them swiftly out of the ever-shrinking middle class.
The solidarity on that issue is so universal, says machinist Stuart Kerr, that going back to work at those wages, quite simply, "ain't going to happen."
"It's not worth my time to be here [on the line] for that kind of money," says Kerr, 47, whose father also worked at Electro-Motive, and whose wife, daughter and grandchildren came out to show their support.
As Kerr sees it, the threat of moving locomotive manufacturing to Muncie is a scare tactic, he concedes that it could become a growing concern in the years to come.
"If they ever do get some skilled labour and pay their wages good down there, then I might get worried," he says.
At the moment, workers are gearing up for a war of attrition -- which Caterpillar has ample resources to fight.
NDP MP PEGGY NASH SPEAKS AT ELECTRO-MOTIVE LOCKOUT RALLY (Story Continues On Next Page)
And when it comes to labour disputes, Caterpillar doesn't have a history of capitulation.
"They're not afraid of taking on long strikes," he says.
Caterpillar's style represents a distinct break from manufacturers like Detroit's Big Three, which tended to work with unions to bring strikes to a swift end, says Lynk.
"There were [auto] plants that were closed, but those were closed almost entirely on economic grounds," he says. "They hadn't ramped it up to the next level where there would have been a belligerent approach toward labour relations that seems to mark this current [lockout] in London."
The difference is apparent to the more senior workers at the plant, who describe a much more hostile bargaining atmosphere under Caterpillar than GM.
When talks broke down in May, the union was able to negotiate a seven month extension on their collective bargaining agreement before the official negotiation deadline. But according to CAW plant chairman Bob Scott, the company had already put up fences around the plant at that point -- an action that was repeated in late December.
"There is bargaining in good faith, and they're not doing it," he says.
Though there were several strikes at Electro-Motive in the '80s and '90s under GM, Scott says this is the first lockout.
Stephanie Ross, a labour relations expert at York University, says Caterpillar is "testing the waters" in London.
"If the union gives in, then they can run the plant according to their desires, with the cost structure that they prefer. And they have in their back pocket the capacity to leave," she says. "The company has very little to lose either way."
For workers, however, the losses are already mounting. Though Scott says union members have been preparing for the possibility of a tough fight since the spring, when he advised workers "to start putting money away in case there was a strike," not everyone has been able to do so.
Dave Clark, a welder who has worked at the plant for 18 years, figures he can last three months before it becomes difficult to make ends meet.
"I'm separated and I pay child support, so with all that on top of everything, I'd have to move or take in a boarder," he says. "There's options, but nothing that I want to happen. It's major."
The abysmal job prospects in the London area, where numerous factory closings and layoffs have in recent years reduced the manufacturing industry to a shadow of its former self, has made the situation all the more desperate.
"I'm scouting all over the place," says Carlos Vasquez, a 32-year-old with two small children. "It doesn't look like there's going to be anything around here worth going back to work for."
All of which is prompting labour leaders and politicians to call for government intervention at the federal and provincial level.
A particular point of contention for Irene Mathyssen, NDP MP for London Fanshawe, is a 2009 media availability, which saw Prime Minister Stephen Harper use London's Electro-Motive plant as a backdrop for a corporate tax-break announcement.
"When it came to the photo-op, they were front and centre, and now that we see this group of workers in real difficulty without any leverage … they're not interested," she says. "They owe it to these people to come back and fight for these jobs."
In an e-mail, Federal Minister of Labour Risa Raitt told HuffPost that she had "been briefed by local Conservative MPs on the situation," and is "concerned about workers and their families," but maintained that this matter in under provincial jurisdiction.
"The federal government cannot interfere," she said.
This sentiment was echoed by the Prime Minister's Office.
"Obviously you'd like to see a resolution and people back to work, but it really isn't a role for the federal government," says spokeswoman Sara MacIntyre.
The Ontario Ministry of Labour did not immediately respond to request for comment.
But while the government may not be up in arms, the public certainly appears to be.
In all his years of collective bargaining, Local 27 President Tim Carrie says the community has never shown this level of support.
"A lot of times there's not a lot of support for unions in the public, but it's just amazing the kind of response we're getting from ordinary citizens, people that don't even belong to unions," he told HuffPost. "That's just lifting the morale of our members, because people know this is about our community, too."
With files from Lila Shapiro
5 LABOUR DISPUTES THAT ROCKED CANADA IN 2011
Popular in the Community