UPDATE: The mayor of London, Ont,. is taking criticism from some corners after calling on Prime Minister Stephen Harper to "get [his] ass down here" during a rally for locked-out Caterpillar workers Saturday.

"Get back to the table, Caterpillar," Mayor Joe Fontana said toward the end of the rally Saturday. "Get your ass down here, Prime Minister Harper."

That drew criticism from the prime minister's Conservative allies in southern Ontario.

"It looks to me like some form of blame transference," London West MP Ed Holder, a Conservative, told the London Free Press. "These kinds of comments aren't helpful."

For his part, Fontana walked back his remark slightly

"That wasn't in the script, I sort of got caught up in the moment," said Fontana, a former federal Liberal labour minister.

Fontana, who served as labour minister in the Liberal minority government of Paul Martin, had earlier criticized Harper for staying silent on the three-week-long lockout of more than 400 employees at the Electro-Motive plant even though he had appeared at the site in 2008 touting a tax break for the company.
LONDON, Ont. -- Thousands of people descended on Victoria Park in downtown London on Saturday to rally in support of 420 locked out Electro-Motive Diesel workers in what organizers say is the largest demonstration in the city's history.
Dubbed a "day of action against corporate greed," the rally for the CAW workers included union members, politicians, residents and dozens of busloads of demonstrators from as far away as Sudbury and Ottawa.
Organizers estimated the crowd at 15,000; police put the total at closer to 5,000.
Illinois-based heavy machinery manufacturing giant Caterpillar, which owns Electro-Motive through its subsidiary Progress Rail, was the target of much of the anger expressed by those who took to the stage.
Speaking directly to Caterpillar, CAW plant chairman Bob Scott elicited cheers of support as he told the crowd that the company "pissed off the wrong [union] membership."
"You wanted a fight, you got a fight," he said. "This isn't about 450 people, this is about a community, a province and a goddamn country. This is going to be a fight that you're never going to forget."
In a sign of how widespread the concern over the lockout has become, the rally included representation from United Electrical and Machine Workers of America, who build locomotives for General Electric in Erie, Penn. -- Electro-Motive's main competitor.
"We build locomotives just like these people. Exactly the same. What they're trying to do up here is exactly what they tried to do to us during our negotiations," UE Local 506 President Roger Zaczyk told The Huffington Post. "We all have to come together."
The mood was high before noon as a band led the crowd -- a veritable sea of people stretching in all directions from the stage -- in a rendition of "O Canada."
"It's fantastic to see all these people -- to know that they're here to support me and my family," said Ryan McCafferty, a 31-year-old father of three who has worked at the Electro-Motive plant since 2007. "It shows that this fight is worth it. It's not just us in this fight."
The demonstration is the culmination of months of simmering labour unrest and mounting public outrage over a dispute that has become something of a flashpoint in the battle to defend "the 99 per cent."
Caterpillar locked out CAW members on Jan. 1 when the union rejected a contract that would have cut benefits and slashed wages by more than half, from $35 to $16.50 -- a concession that's particularly tough to swallow as the company's profits mount.
Dave Nickel, a retired teacher from Peterborough, Ont., who was part of a delegation from the Ontario Secondary School Teachers' Federation, said the rally was an opportunity to take a stand against the erosion of the middle class and a "take it or leave it" approach to collective bargaining on the part of corporations.
"This is about workers across the spectrum uniting and making a stand," he said. "It's going to send a message to governments across this country, that they better start to protect the workers."
The perceived inaction of government -- particularly of Prime Minister Stephen Harper -- in the Electro-Motive dispute was a common theme throughout the day, as those who took to the stage repeatedly noted the conspicuous absence of Conservative Party politicians.
NDP interim leader Nycole Turmel echoed a familiar criticism of Harper, referring to his 2009 visit to Electro-Motive, during which he announced a corporate tax break.
"He came here for a photo-op and said, 'We are bringing back $5 million in tax cuts that will help you to keep your jobs.' And now, he's not here," she told media. "He doesn't answer the question. He's hiding. All his representatives are hiding and not answering the question."
A spokeswoman for the Prime Minister's Office told HuffPost earlier this month that the dispute is under provincial jurisdiction and getting involved is not a role for the federal government.
Immediately following the rally, many of those in attendance took part in a caravan to the picket line -- a crush of buses and cars that jammed traffic and prompted police to set up a roadblock a few blocks from the factory.
The traffic, however, didn't stop demonstrators, who parked wherever they could and walked the rest of the way with their children in tow.
The sheer number of those in attendance reflects the desperation of a community at its breaking point.
Once an engine of manufacturing, the London, Ont., region has been devastated in recent years by the collapse of the auto industry and a string of layoffs and factory closures that lay to waste to thousands of well-paying jobs that for decades supported a robust middle class.
"London isn't recovering as quickly as the rest of the province," said M.J. Kidnie, a professor at the University of Western Ontario, who decided to join the rally after reading about the Electro-Motive dispute in the paper. "It's a really bad situation. It's unfair and it's hard on London workers."
A lengthy lockout may not be the only threat facing those relegated to the picket line: some suspect that Caterpillar is planning to shift operations to its newly opened Electro-Motive facility in Muncie, Indiana, where workers reportedly earn less than the company is offering employees in London.
It's a charge Caterpillar has neither confirmed nor denied. The company has kept quiet through the dispute, declining HuffPost's request for comment on the rally, or the possibility that continued silence amid growing public outrage could damage its image.
Public relations firm Fleishman-Hillard has been handling media requests, directing reporters to a website set up by Electro-Motive to "act as a reliable source of information on the London facility," where there has been no news posted since Jan. 1.
Caterpillar's hard-line approach to negotiations in London is in stark contrast to the tone of its current online advertising campaign, CaterpillarSaysThanks.com, which implores the public to "recognize a skilled tradesperson by saying thanks for all the hard work they do and share it with the world," through Twitter, Facebook and email.
Outside of the gates that surround the Electro-Motive plant, workers are beginning to come to terms with the fact that they may soon be facing significant financial difficulties -- no matter how the dispute unfolds.
Tod MacDonald, who has worked at the plant for 23 years, says he has been told that his bank won't renew his mortgage at the wages Caterpillar is offering, and he will soon have to begin dipping into his investments to make ends meet.
On the fence behind him, workers have strung up about a half-dozen work boots -- the signal factory employees use to indicate job loss.
As MacDonald explains: "Some people are feeling their jobs are lost already."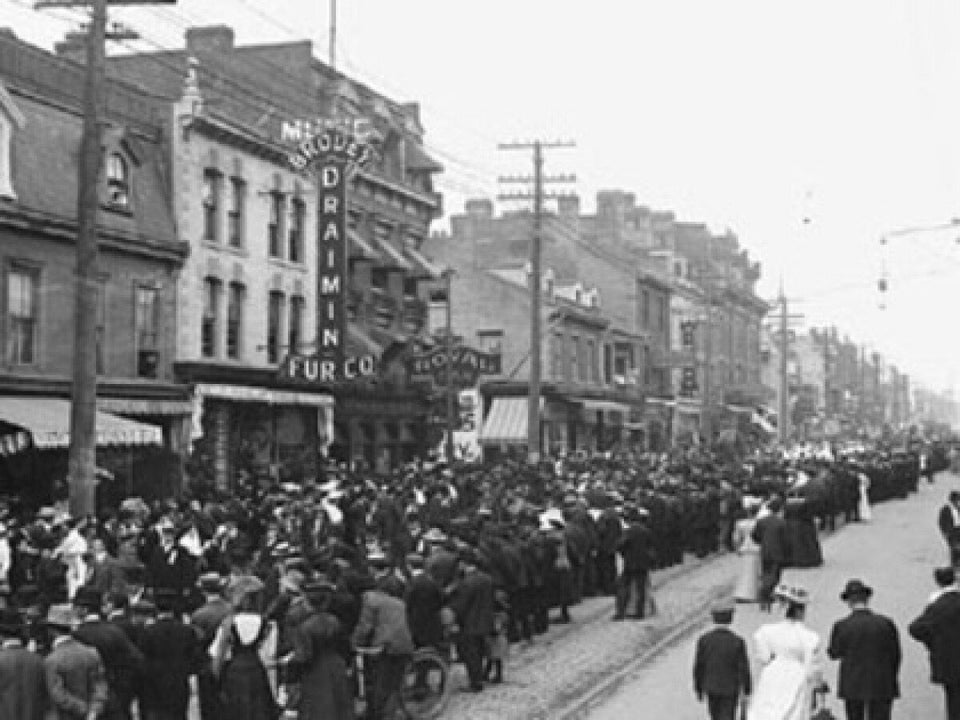 Flashpoints In History Of Canadian Labour
Popular in the Community