OTTAWA — The federal government is delaying until the fall the enforcement of a controversial electronic visa for European citizens and other visa-exempt countries.
The Electronic Travel Authorization (eTA) is a new mandatory entry requirement for almost all foreign nationals who don't normally have to get a visa to come to Canada, such as French, Norwegians and British citizens, who fly or pass through Canada. Americans are exempted, as are those with valid Canadian visas.
The eTA requires would-be travellers to apply online days before boarding their flight. They must pay a $7 fee and provide the Canadian government with passport and personal information, such as marital status and funds available for the trip, as well as details about any possible criminal records, health problems and any past immigration issues. The eTA, which is in line with similar requirements for the United States, was announced last summer with a long phase-in until becoming mandatory on March 15.
But foreigners and dual-nationals complained. French Ambassador Nicolas Chapuis took particular issue with the matter, taking his concerns to high-ranking officials in the Canadian government.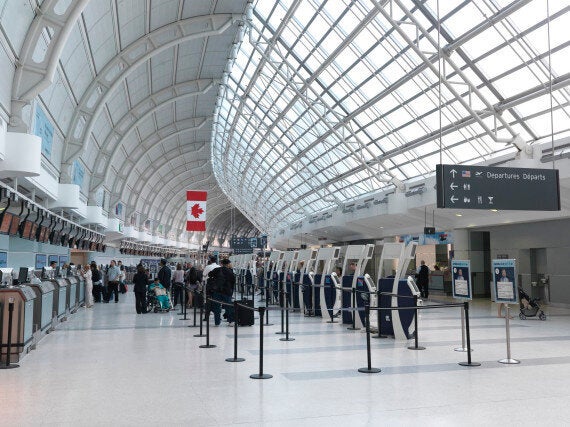 The eTA is a mandatory entry requirement for almost all foreign nationals, who didn't need a visa to enter Canada in the past. (Photo: Getty)
Dual French and Canadian citizens were particularly incensed that they would have to buy a Canadian passport to come to Canada because, Canadian citizens are not allowed to apply for an eTA for use with a foreign passport.
"Except a passport isn't free," one woman identified as Emllie posted on the French consulate's Facebook page. "They can't really reject Canadian citizens…?" she wondered.
"That you have to prove that you are Canadian to enter, whether you are solely Canadian or a bi-national, that seems logical to me," wrote a man named Ronan Gire. "But I don't understand why you can't request an eTA if you are a dual-citizen."
On Thursday, the government decided to postpone the enforcement of the eTA until some, unspecified, time in the fall.
"As of March 15, 2016, eTA is mandatory [and] citizens from countries that do not need a visa to travel to Canada are expected to have an eTA to fly to or transit through Canada," said Faith St-John, a spokesperson for Immigration, Refugees and Citizenship Canada. But from March 15 until fall 2016, she said, border services officers can let travellers arriving without an eTA into the country, as long as the other requirements to enter Canada are satisfied.
Critics of the eTA suggest the prior approval system will make it much more difficult for would-be refugees to seek asylum.
"Once they are on Canadian soil, they have a whole host of rights. They have hearings, they can make a claim, they can go to the refugee board."
Josh Paterson, executive director of the British Columbia Civil Liberties Association, said the Canadian government had been focused for some time on stopping refugee claims before they arrive on Canadian shores.
"Once they are on Canadian soil, they have a whole host of rights. They have hearings, they can make a claim, they can go to the refugee board. They can't just be deported as a matter of course, they have to go through a process," Paterson said. "[But] you can avoid all those things if you stop people from even getting here."
Paterson told The Huffington Post Canada that he hoped the leniency period would give the government pause and make it consider whether implementing this program contravened Canada's international commitment under the UN's refugee convention.
New system to enhance security
Ottawa says the eTA will enhance the safety and security of Canadians and "strengthen the integrity of the immigration program."
Between 2012–2013, 7,055 visa-exempt foreign nationals were denied admission when they arrived at a Canadian airport, according to government records. Twenty-eight individuals with prior removal orders were found trying to return to Canada without proper authorization.
"Had there been a mechanism in place to verify the status of these foreign nationals, it would have been known that they likely would have presented admissibility concerns prior to their arrival at a Canadian air port of entry," the eTA's regulatory impact analysis statement notes.
Refusals can be made on several grounds: membership in terrorist organizations or organized crime groups; espionage; participation in war crimes or crimes against humanity; international human rights violations; criminal records; or dangerous public health cases, such as tuberculosis.
In 2011, the Canadian government announced it would introduce the eTA as part of a plan to harmonize entry requirements with the United States through the Perimeter Security and Economic Competitiveness Action Plan. The government said at the time that the electronic travel authorization would make it easier to identify "inadmissible persons and stop them from travelling to this country, rather than waiting to deal with them only once they are on Canadian soil."
Requirement could affect Canadian tourism
Beyond security concerns, the government said deporting individuals back to their point of departure was also costly for taxpayers and the airlines.
It did note in 2014, however, that the eTA could significantly affect the travel and tourism sectors in Canada. Visa-exempt travellers, excluding U.S. citizens, represent approximately 74 per cent of the foreign nationals who arrive in Canada by air, government records show.
The cost of implementing the program, from 2015 to 2024, is expected to be $173.6 million, with the government projecting benefits to be worth $174.7 million — mostly recouped from the $7 fee.
The eTA is good for five years or as long as one's passport doesn't expire. The Canadian government says eTA applications should be accepted within a few minutes, and if more time is needed to process an application, the citizenship department will email the applicant within 72 hours outlining next steps.
The Canadian government also notes that any biometrics requested as part of the eTA application, such as fingerprints, may be shared with the RCMP, other law enforcement agencies in Canada and foreign governments.
Popular in the Community