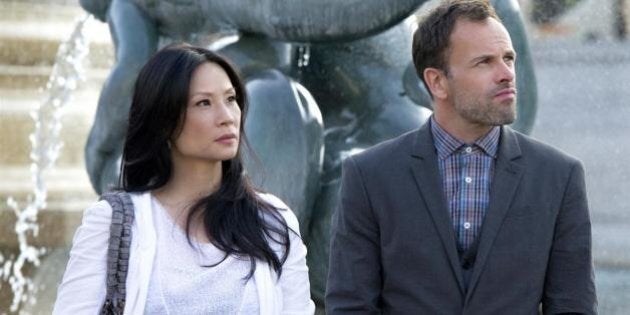 With the introduction of Sherlock's brother, Mycroft, and more Moriarty to come, it's safe to say that things have been a little uncomfortable for our favourite brilliant, jittery detective. But Holmes isn't the only one who gets a life outside of "Elementary'"s day-to-day cases.
In this week's episode of "Elementary," "An Unnatural Arrangement," we meet Capt. Gregson's wife, Cheryl, played by Talia Balsam, but according to Aidan Quinn, his team gets some surprising insight into his character's life. "Well, you're gonna find things out that Capt. Gregson would never want Sherlock and Joan to find out, but they find out through some incidents that go on," the actor told HuffPost TV at the CBS International Press Junket in New York City. "It's going to be a fun episode to watch."
And fun has been a nice change of pace for the formerly dark series. Sure, it still has its heavy moments, but mixing in some of the lighter stuff has not only helped round out the show, but elevated it to another level. "I'm always for humour wherever it comes from, because life is dark enough," added Quinn, who is pleased with the brighter turn "Elementary" has taken in Season 2. "You always need to leaven it with humour, so that's good for me."
For those of you who want to see more Marcus-centric stories, Jon Michael Hill promises, "They've started to develop a storyline a little bit more, so I would say look for mid-season." (Personally, my dream scene would be for Bell, Gregson and Watson in a bar, going through a few rounds, and just bitching about Sherlock all night.)
"I'm going to get on the phone with [creator] Rob [Doherty] right now and tell him," Hill joked, but added: "I would love that. It's always great when you get a scene that's outside of the case. I think people like to see how these people are outside of work, their personal lives, and their personal opinions."
Hill made no promises about Andre Bell (Malcolm Goodwin) returning, saying,"It would be great to have his brother come back. It would be great to see where their mother is and what her deal is." But he's perfectly content if that's where Marcus' personal life ends. "As far as a love interest goes, I don't really care about that," the actor laughed. "The last girlfriend they gave me, the ex, ended up trying to kill me."
Aside from Moriarty/Irene Adler (Natalie Dormer), who will reportedly be back around episode 11 or 12 of the season, the other character "Elementary" fans have been clamouring for is Mycroft Holmes. When we last saw Sherlock's brother in London in the season premiere, there was quite a bit of animosity between the men, which was only heightened by Mycroft and Joan's connection. But by the end of that episode, the tension between the brothers had died down (though it didn't help that Mycroft blew up all of Sherlock's possessions he had left behind).
But just like that explosion -- poof! Gone. That was the last we heard from Mycroft, until now. We've known Rhys Ifans was returning to the show (the Nov. 7 episode, FYI), but this time around, Mycroft arrives in New York and enlists Sherlock and Joan to help solve a case involving his former fiancée (presumably the one Sherlock seduced in order to prove she was only after the family fortune). Coincidentally (or not), Lucy Liu told critics at the CBS junket that the Nov. 7 episode also happens to be a big one for Watson as well.
"By Episode 7, you'll discover something about Watson that I was surprised to read as well," Liu told reporters, but then backtracked, not wanting to overhype the revelation. "It's not, like, life-changing, but I think, for me, it was something that I didn't expect and I think it also says something about Watson's character that I didn't expect either."
Hmm, have Joan and Mycroft kept in touch since their meeting in London? I don't know if that's possible considering how astute and in her business Sherlock is; I just don't know if Watson could hide such a huge thing. While show creator Doherty has repeatedly insisted that nothing romantic will ever happen between Holmes and Watson (thank goodness!), he never promised that Joan couldn't have some fun with Sherlock's brother, right? But how will Sherlock react? Time will tell. Is it Nov. 7 yet?
"Elementary" airs Thursdays at 10 p.m. ET on Global in Canada and on CBS in the U.S.