"We thought, 'Wouldn't it be funny if we did a human Elf On A Shelf?'" dad Joe Wynberg told BuzzFeed Canada.
The father of four then donned a red and white costume to pose as a life-size Elf on the Shelf in their home. His wife Megan took the elf's very first photo and introduced him on Facebook as Fle (pronounced "flee").
From there, Megan began posting photos of Fle every day as he got into all sorts of trouble, including pooping chocolate onto cookies and knocking down the Christmas tree!
On Facebook, the couple's friends and family joked about how creepy the images were. "I can't show this to Alice," one said. "This is what nightmares are made of!"
"Oh My Good GOD!!!!!!!!!!!! CREEEEEEEEPY!!!!!!!!!!!!!!!!!!!" another wrote.
Others thought the images were hilarious: "I can't look away or stop laughing. Amazing!!"
Another admitted: "I have never laughed so hard in my life than I did when this came up on my newsfeed."
Now that the Wynberg's have introduced Fle to the world, their friends and family are counting on them for daily laughs. "Now people are looking forward to it every night at around eight or nine o'clock to see what Fle is going to get into next," the dad said. "I don't think we were planning to do all 24 days at first, but now we're kind of forced to."
On Tuesday, Megan wrote on Facebook, "[We're] very humbled at the support of our family, friends and complete strangers these past nine days. In a world filled with sickness, war and general unhappiness each and everyone of you have shown what life really is about. Happiness, laughter and love. Please continue following us as we continue to hopefully bring some joy into this world."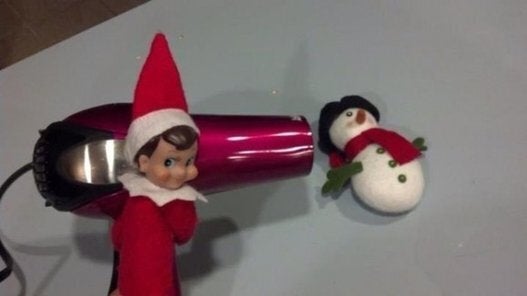 Naughty Elf On The Shelf Ideas No Kids Should See!