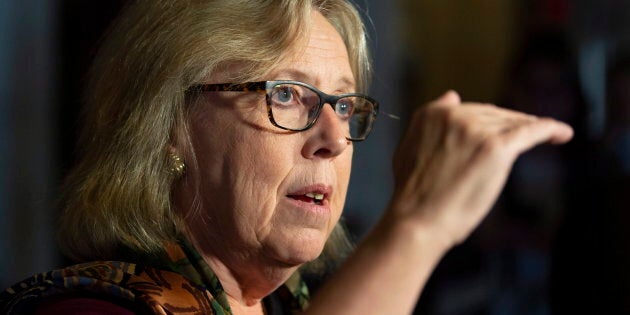 OTTAWA — Federal parties took turns Tuesday knocking each other for insufficient action on climate change, but it was Elizabeth May who threw the sharpest barb at Andrew Scheer.
Following an announcement that the government will be delivering tax rebates in four provinces that rejected the federal plan, the Green Party leader called the Conservative party's antagonistic position strange in light of carbon pricing's history.
"They seem to also want to ignore that carbon pricing, as a mechanism, was invented in the United States by Republicans who wanted to find a market mechanism so they could avoid heavy regulation," May said.
The rebates will help the Liberals court votes, May said, and will "leave Andrew Scheer and his cowardly negligence exactly where it belongs: in the spotlight of uselessness."
She called the federal rebates a "good start" toward a fulsome climate policy.
May stressed the time-sensitive need for governments to mitigate and implement policies that will ensure future generations inherit an Earth with livable conditions.
"But we don't make a difference when we hang back hoping someone else will go first. We make a difference when we go first."
Rebates are an '
election gimmick': Tory leader
Scheer has been under pressure to release details of his party's plan to address climate change. He had promised to reveal the plan "very soon," but has yet to do so.
The Conservative leader took to the same lectern on Parliament Hill minutes after May. He called the new rebates nothing short of an "election gimmick" to buy votes ahead of next year's general election.
"This plan is wrong for taxpayers. It's wrong for the economy, and it's wrong for the environment," he said.
Money for carbon tax rebates in Ontario, Saskatchewan, Manitoba and New Brunswick will draw from a federal fuel charge which will be implemented in April. The rebates are expected to return 90 per cent of fuel charge proceeds collected as part of its climate plan.