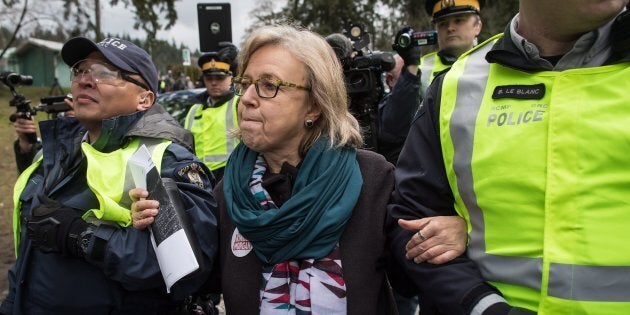 OTTAWA — Green Party Leader Elizabeth May has been arrested in Burnaby, B.C. for violating a court injunction keeping the public away from Kinder Morgan-owned properties.
The court order stipulates that activists must stay at least five metres away from terminal sites on Burnaby Mountain. May had joined protesters on Friday to rally against the expansion of Kinder Morgan's Trans Mountain pipeline.
RCMP escorted May away from the site, and also arrested Burnaby South NDP MP Kennedy Stewart.
Both May and Stewart had held a banner that read: "PM Trudeau: Climate leaders don't build pipelines."
For years, opponents have warned how the project will put the land and waterways under and near it at risk of environmental disaster in the case of an oil spill.
B.C. Premier John Horgan is against the project, saying he wants it to undergo a thorough environmental review to assess what the risk is to the coast. His position prompted an inter-provincial dispute with Alberta Premier Rachel Notley, who banned the import of B.C. wine.
The proposal to expand capacity by twinning the current 1,147-kilometre pipeline — increasing current capacity from 300,000 to 890,000 barrels per day.
The project was approved by the federal government last year.