"I wanted to choose a moment when we had had a lot of success before leaving," she said at a news conference in Ottawa Monday. Under her leadership, the Greens inspired more than a million Canadians to vote for the party this past election — more than ever before.
May has led the federal party since 2006. Jo-Ann Roberts, the Green Party's deputy leader and a former veteran journalist, has been named to replace her in the interim. May will serve as parliamentary leader and stay on as an MP.
The longtime leader said the decision shouldn't come as a surprise, given past comments she made about reviewing her role after the election. She explained she made a promise to her daughter in 2016 that this election would be her final campaign.
"I'm very excited to know that I'll have time with my husband and time with my daughter and my extended family," May said as she reached out to hold the hand of her husband John Kidder, who stood behind her. "I keep my promises, especially to my daughter Kate."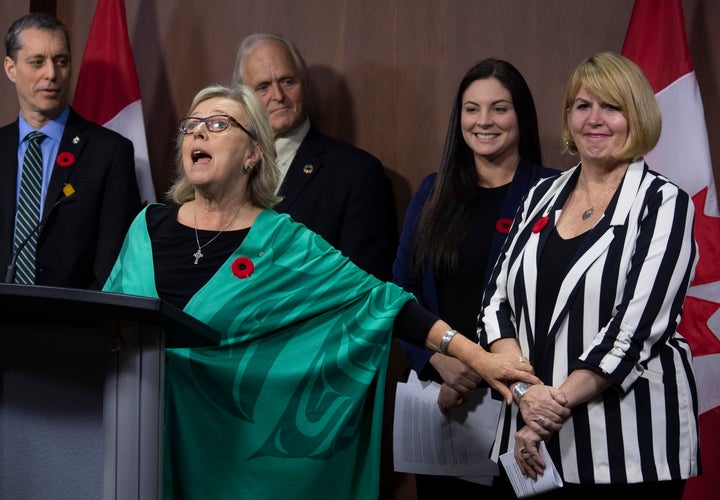 Roberts told reporters she's taking on the new role "somewhat reluctantly."
It's "very difficult" to think about filling May's shoes, she said. "I think I'll just keep the shoes in place while we prepare for a leadership race."
The Greens won three seats in last month's federal election. In addition to May's seat, Paul Manly won Nanaimo-Ladysmith on Vancouver Island and newcomer Jenica Atwin took Fredericton.
It wasn't enough to hold the balance of power in the minority Liberal government, but May said she was encouraged by the fact that more than 50 Green candidates received at least 10 per cent of the vote in their ridings. Support for the party has gone mainstream across the country, she said, making it a viable political force that can exert an influence on policy.
Her environmental activism got her arrested last year when she joined protesters in Burnaby, B.C. at Kinder Morgan's terminal site for the Trans Mountain pipeline. The popular MP kept her seat in Saanich–Gulf Islands, winning it with nearly 49 per cent of the vote.
"I'm not stopping my work," May told reporters Monday, calling the climate crisis "as critical as ever." She pledged to continue pushing the government and opposition leaders to get "real climate action."
"We will continue to push and to fight, whether I'm leader of the Green Party, past leader of the Green Party, member of Saanich–Gulf Islands or citizen at large."
She teased that the party has "very good people" who are thinking about running for leader. As the country's only female leader of a major party, the environmentalist declined to say whether she hoped a woman would replace her.
"I have nothing against white men, even old white men. I just married one," May joked, giving her husband a quick kiss. "They're really good."
The outgoing Green leader said she has another job in her sights, Speaker of the House, addressing recent speculation about her interest in the role. She will consider it after the next election, she said.
The party plans to hold a leadership convention in Charlottetown next fall.
Popular in the Community