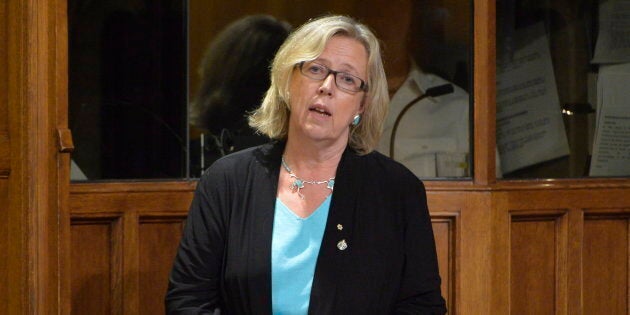 OTTAWA — Prime Minister Justin Trudeau's government is giving big industrial polluters special treatment and weakening its carbon-pricing plan, Green Party Leader Elizabeth May says.
"I can't believe [it]," May told HuffPost Canada. "I'm horrified."
The Liberal government released details Monday of its proposed carbon-pricing regimen. The plan includes a charge on consumer fossil fuels, such as gasoline, diesel, propane and natural gas, and a different output-based pricing system for big industrial facilities — such as petroleum refineries, chemical plants, and cement production facilities — which pollute a lot.
'It doesn't make me happy'
Under this new scheme, the federal government says, big polluters won't be charged according to the fuels they purchase but will pay a carbon tax if their emissions are above a certain industry-average, intensity-based target.
Right now, that target is scheduled to be 70 per cent of the national average of a sector's emissions per unit of production. Facilities that perform 30 per cent better than their national industry average would be allowed to sell credits to facilities that exceed their carbon limits.
In a press release, the Liberal government said its plan would limit the impact of the carbon tax on the "international competitiveness" of industrial polluters and minimize the risk that these businesses would leave Canada for countries that don't have a carbon price.
"At the same time, it would maintain incentives to reduce emissions, reward top performers, and support clean innovation," the government said.
May acknowledged that the plan will likely lead to some changes, but, she said, "it doesn't make me happy."
Feds 'not prepared' for climate change impacts: commissioner
"We have a very, very rapidly closing window on making it through the climate crisis with an intact human civilization, which is to say functioning nation-states ... [ and] avoiding the deaths of millions."
The Liberals' plan "is a failure of leadership," she said.
"A lot of people around the world would like to see Canada be a real climate champion, which would entail much tougher targets and a real program," May said.
The Liberals have adopted the Conservatives' target of reducing emissions by 30 per cent below the 2005 levels by 2030. Those targets, May feels, are far less than what the Paris Accord called for.
The Green Party leader also expressed dismay that the Liberals had chosen intensity-based targets rather than absolute hard caps that would lead to deeper reductions.
We have a very, very rapidly closing window on making it through the climate crisis with an intact human civilization, which is to say functioning nation-states ... [ and] avoiding the deaths of millions.Elizabeth May
The federal government's approach is modelled on Alberta's "absurd" climate plan, which allows emissions to continue rising, May said.
The plan announced Monday would apply in provinces and territories that want it or that fail to implement a system that meets the federal standard.
The provinces have until September to come up with their own carbon-pricing initiative before Ottawa steps in and imposes its carbon tax regimen in 2019. The federal government has given itself the right to return the funds directly to provincial residents rather than turn the money over to provincial governments.
That could mean a fight, for example, with the governments of Saskatchewan, Manitoba, New Brunswick, and Nova Scotia, provinces that the federal government has deemed non-compliant.
Louise Comeau, the director of the Environment and Sustainable Development Research Centre at the University of New Brunswick, told HuffPost that one of the few things she feels is weaker than expected is the late implementation of the program.
"They are giving the provinces a break on that first year of $10 a tonne," she said, of the 2018 carbon price. If a province is non-compliant, the federal government won't step in until Jan. 1, 2019, when they'll start off with the planned $20 a tonne. "Basically they will let you off the hook for that first year."
So far, the backstop system Ottawa has developed would apply to the oil and gas sector, pulp and paper, chemicals, nitrogen, fertilizers, lime, cement, base-metal smelting and refining, potash, iron ore pelletizing, mining, iron and steel, and food processing.
Electrical production is so far excluded.
"I have a lot of concerns about that," Comeau said. "We have electricity being produced from oil, electricity being produced from natural gas. We would assume that the same intensity-standard process would apply to all non-coal assets.... I don't understand why that is not there."
Popular in the Community