Green Party Leader Elizabeth May thinks she's the hardest working person Peter Mansbridge has ever met, revealed an interview that aired Friday evening.
May told the CBC anchor that, coupled with her ability to find "the good in everyone," and the fact that she had never heckled in Parliament, would make her uniquely qualified to bring NDP Leader Thomas Mulcair and Liberal Leader Justin Trudeau together in a coalition-type government.
May, who is running in her third election campaign, suggested she's not gunning to be prime minister. What she wants is to be a mediator or matchmaker between the other centre-left parties, and perhaps hold the balance of power in a minority government that boots Conservative Leader Stephen Harper out of office — even if he wins more seats than any other party.
In an interview that didn't touch upon the economy, the Syrian refugee crisis, foreign affairs or any matters of security, May did make her pitch for why she thinks there should be more Green MPs.
Here are six key moments.
The Green Party said she is not letting her single-digit support in public opinion polls discourage her and noted that the Greens are polling in the "high in double digits" in places such as Vancouver Island and elsewhere in British Columbia.
Her dreams are of 30 seats, she said, but being "realistic" she thinks she can win 12 to 15.
A B.C. poll last month suggested the Greens were far behind the other parties in B.C. with 12 per cent of support, while they were closely behind the NDP on Vancouver Island with 32 per cent.
Several pollsters, however, seem to suggest May will be able to keep only her Saanich Gulf Island seat and will most likely lose two seats held by MPs who were elected under the NDP banner in 2011 but jumped parties and are now running as Green candidates.
May is the only party leader to have released a platform. The Greens have suggested "big ideas" such as free tuition, free dental care for low-income youth, a national pharmacare program, a guaranteed minimum wage, reducing Canada's dependence on fossil fuels by mid-century, and legalizing marijuana.
But the vast majority of the Greens' platform, May said, wouldn't constitute a bargaining chip for her party's support in a Liberals and, or the NDP coalition.
She said her bottom line would be:
"Short list: get rid of first past the post. Bring in proportional representation, repeal Bill C-51, reduce the powers of the Prime Minister's Office, because they are illegitimate and unhealthy, and real climate action beginning the day after the election."
After describing how she wanted to be a matchmaker, May said she doesn't see a formal position for the Greens' in a coalition government.
"I'm not angling to get the Green party into their coalition," she told Mansbridge of an potential NDP-Liberal alliance. "I prefer the Greens to remain an opposition party that's able to hold the government to account."
Maybe that's because as the leader of a party that whips no votes, it would be difficult for May to be part of a formal arrangement, where MPs have to toe the party line.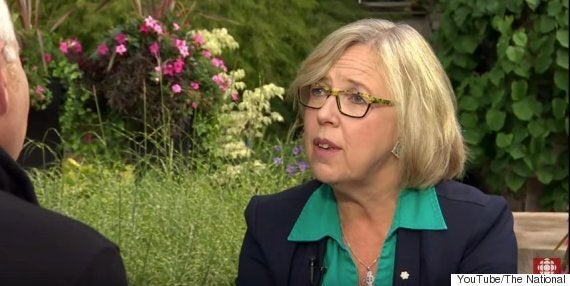 The Green Party leader said that in 2011, when she expected to win only her seat, she carried with her the phone number for Rideau Hall, the Governor General's residence. She said she planned to call David Johnston and plead with him to give the other parties time to come together.
But then, the Conservatives won a majority. They shouldn't have been allowed to form a minority government, May said, just because "the NDP and the Liberals were paralyzed by their hyper-partisan dislike for each other."
She plans to carry Johnston's number again, she said.
"I believe that we will govern better when we govern together."
Unlike Mulcair and Trudeau who just pledged to attend United Nations Climate Change conference in Paris later this fall and work constructively with international partners, May said she wants Canada to be the leader at the conference.
"Unless there's a lot of Greens elected," May said, "we won't make a difference when we get there." The Liberals and NDP haven't followed the negotiations closely enough, she said.
"I want Canada to go to those negotiations, not as a constructive partner, I want us to go to be the leader that actually brings the whole process to a real conclusion that's ambitious and more aggressive than anything that's currently being planned," she said.
May told Mansbridge she thinks the small business tax rate should be nine per cent, a drop from the current 11 per cent. She is now the fourth party leader to have made that statement.
The NDP first made the promise earlier this year. Harper followed suit in his April budget, pledging to drop the rate in 2016.
Trudeau told reporters this week that he would also the drop the rate to nine per cent but that he has some issues with the way the Tories and the NDP have crafted their proposal and he wants to ensure that job creators rather than tax evaders get the break.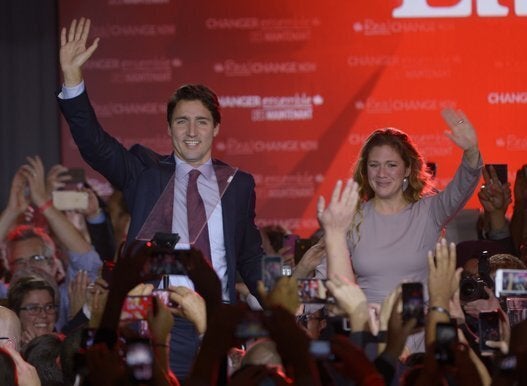 In Photos: Canada Election 2015