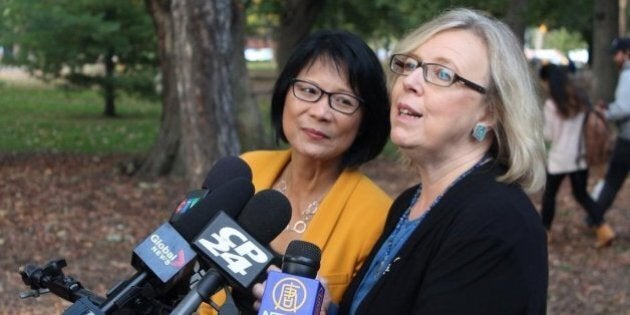 Federal Green Party Leader Elizabeth May has formally endorsed Olivia Chow to become the next mayor of Toronto.
May, a British Columbia MP, told reporters outside Queen's Park Tuesday that she views Toronto as "Canada's city" and believes her former NDP rival is the best person to lead it.
May complimented Chow on her green platform, which calls for a million trees to be planted in the city over the next decade. Chow believes this effort would cost taxpayers nothing as it would be paid for by ending subsidies to polluting businesses.
Though May and Chow belonged to different parties, the Green leader seconded Chow's private member's bill in 2011 calling for a national transit strategy. May said Chow showed "great leadership" on the transport file and lauded her work ethic as an MP.
"I applaud her commitment to children, and to a greener Toronto for future generations," May said, according to a release from Chow's campaign.
Chow said Toronto's tree canopy has been "devastated by ice storms, beetles and Ford budget cuts." She thanked May on Twitter for her support.
This is not the first time May has weighed in on Toronto politics. In January, she rose in question period to ask if Prime Minister Stephen Harper would urge "his friend" Rob Ford to resign.
Green MP Bruce Hyer, who represents the riding of Thunder Bay—Superior North, also took to Twitter to endorse Chow.
John Tory, who polls suggest is the frontrunner in the campaign, released a plan in April to see 3.8 million trees planted in Toronto in the next 10 years. Tory aims to double the city's $7 million annual expenditure for tree planting to $14 million by 2019.
Jim Harris, the former leader of the Green Party, has endorsed Tory. In a statement Tuesday, Harris called Tory a "proven leader" and problem-solver, The Globe and Mail reports.
On Monday, Tory received the endorsement of federal Transport Minister Lisa Raitt, the most-high profile member of Harper's inner circle to wade into the mayoral election.
Chow slammed the Raitt endorsement, saying the Tory MP tried to "muscle out" residents when she led the Toronto Port Authority. Chow also criticized Tory for accepting the backing of someone who is eliminating door-to-door Canada Post services, CBC News reports.
Toronto voters head to the polls on Oct. 27.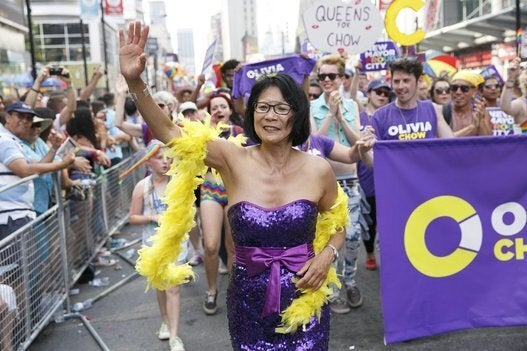 Olivia Chow Through The Years