OTTAWA — Green Party Leader Elizabeth May says she's ready to engage in civil unrest and go to jail fighting the Kinder Morgan Trans Mountain pipeline expansion.
Prime Minister Justin Trudeau announced Tuesday the approval of the controversial $6.8-billion project that twins an existing line and increases capacity to 890,000 barrels a day. That triples the current volume of crude oil that currently travels between Edmonton and Burnaby, B.C., the third-largest city in the province and increases the tanker traffic in the Vancouver harbour much to the dismay of the city's residents.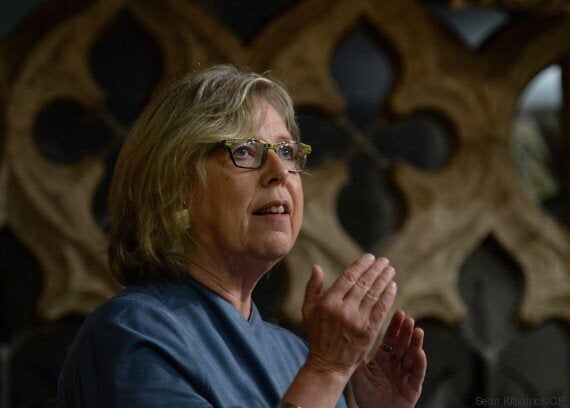 "If there are blockades as construction begins, I'm more than prepared to be there to block construction and be arrested and go to jail. This is not an issue where you compromise," May told The Huffington Post Canada just before Trudeau's announcement.
May said her constituents want her to "stand in solidarity" against the 1,150-kilometre pipeline with indigenous groups and other local politicians, even if that includes risking jail time. "That is the level of commitment that people feel to fighting Kinder Morgan," she said.
The Green Party leader said she had never been arrested in her life but she believes there is a role for non-violent civil disobedience.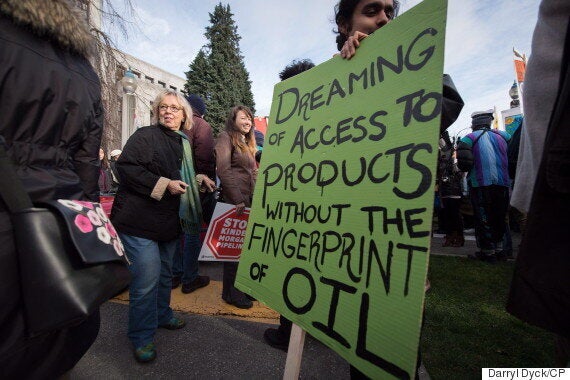 Not only do the Liberals have no social license to approve Kinder Morgan, May said, the government also has "no evidentiary case" to proceed with the pipeline.
"The National Energy Board process was a sham, there was no testing of the evidence, there was no cross-examination, there is no factual evidentiary case that if you can clean up bitumen mixed with diluent (a thinning agent) spilling in a marine environment," May said.
Two weeks ago, more than 4,000 British Columbians marched to protest the potential approval of Kinder Morgan. Opponents say the pipeline expansion will result in more greenhouse gas emissions and increases the risks to B.C.'s picturesque coast.
Vancouver Mayor Gregor Robertson told HuffPost before the march that he still hoped the government would respect Vancouverites and First Nation concerns and "do the right thing and say no to Kinder Morgan."
"If they don't, I would expect it will be ugly," he said.
Speaking in a video message Tuesday, Robertson said he was "profoundly disappointed" by the Liberal government's decision. "This is a huge step backwards for Canada's economy and environment and for climate change," he said, adding that the project was driven by former Stephen Harper's Conservative government through a flawed process.
Vancouverites see the decision as "a direct threat" to their economy and their clean environment, the mayor added, saying residents will continue to oppose the pipeline ever being built.
During last year's election, the Liberals made big gains in the Greater Vancouver area winning 15 out of a possible 23 seats. They previously held only two ridings — in Vancouver Centre and Vancouver Quadra.
Many of those seats may now be in jeopardy. The Green Party leader said the Grits could "kiss them goodbye."
PM 'misled British Columbians': Mulcair
NDP Leader Thomas Mulcair said Trudeau had "misled British Columbians."
"[Trudeau] said that he would never allow a pipeline like Kinder Morgan to go forward under Stephen Harper's system with the National Energy Board. He said that it would be redone under an open transparent credible system," Mulcair said. "People in British Columbia trusted Justin Trudeau and a lot of them must be very sad today."
Trudeau was asked several times about the upcoming battle he faces selling his Kinder Morgan decision during a press conference.
"I have heard and listened very carefully to the many diverse perspectives that exist in B.C. on this project," he told reporters, singling his MP Terry Beech as a vocal critic. "We respect their right to hold and voice their beliefs, but to them and to all Canadians I want to say this: if I thought this project was unsafe for the B.C. coast, I would reject it.
"This is a decision based on rigorous debate on science and on evidence. We have not been and will not be swayed by political arguments, be they local, regional or national."
"People in British Columbia trusted Justin Trudeau and a lot of them must be very sad today."

— NDP Leader Thomas Mulcair
The expansion, the government said, will create 15,000 construction job, provide crucial access to Asian market, and add $4.5 billion in federal and provincial coffers.
In a Facebook post, Beech, a rookie MP, said he will "reserve comment" until he has fully reviewed all the information related to the announcement. He plans an open house for his constituents on Saturday to discuss the decision.
Time to 'work together': MP
Hedy Fry, longtime MP for Vancouver Centre, told HuffPost Tuesday that she had presented Robertson's "cogent" arguments along with the concerns of Indigenous people to the prime minister and to the cabinet ministers responsible.
"I'm not necessarily happy with the decision but I think it's time to move on now and start looking at the 150 conditions that are being placed and see how we can work together to make sure those are being done," she said.
Trudeau approved Kinder Morgan's Trans Mountain Expansion project subject to 157 binding conditions that the government says addresses indigenous, socio-economic and environmental impacts.
With previous files from Catherine Levesque and Zi-Ann Lum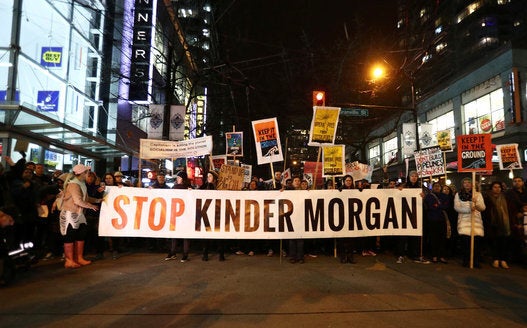 Vancouver Kinder Morgan Pipeline Protests