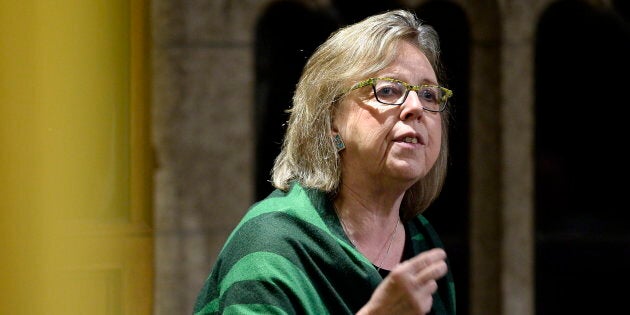 Elizabeth May says the Liberal government overreached by attaching a clause on abortion rights to summer job funding applications, even though she agrees groups that "harass" women shouldn't receive government support.
"To insist on an attestation of values was a really serious mistake and a very bad precedent," the Green Party leader told HuffPost Canada Tuesday.
May was applauded by Conservative MPs Monday after she voted in favour of an opposition motion targeting controversial Liberal changes to Canada Summer Jobs funding that angered faith-based organizations.
Liberal MP Scott Simms, NDP MP David Christopherson, and Bloc MPs Xavier Barsalou-Duval, Mario Beaulieu, and Marilène Gill also backed the motion, which was easily defeated by a vote of 207-93.
The Liberal government demanded this winter that groups seeking summer job funding sign an attestation that the job and the "organization's core mandate" respect "the values underlying the Canadian Charter of Rights and Freedoms," including reproductive rights and abortion access.
Groups were also asked to attest they would not discriminate on the basis of race, sexual orientation, or gender identity and expression.
The changes were brought in after it was revealed that past summer job funds went to anti-abortion groups, such as the Canadian Centre for Bio-Ethical Reform.
Employment Minister Patty Hajdu and Prime Minister Justin Trudeau encouraged faith-based organizations and churches to apply for funding and said they would not be barred because of their beliefs.
But the government would not budge on the need for the attestation, leading Tories to argue that religious groups were being subjected to a "Liberal values test" on abortion.
'The attestation went too far'
The defeated motion, tabled by Tory MP Karen Vecchio, stated that organizations engaging in "non-political non-activist work, such as feeding the homeless, helping refugees and giving kids an opportunity to go to camp," should be able to access the grants regardless of whether or not they sign the attestation.
May told HuffPost that while she supports Hajdu's intent to keep funds from anti-abortion or anti-LGBTQ organizations, the language used in the attestation created difficulty for faith-based groups who do a "lot of good work in this country."
May said she had a hard time convincing some groups in her B.C. riding, such as organizers of summer bible camps or devout Roman Catholics, just to "check the box" and voice concerns in a secondary letter.
"The attestation went too far in speaking to what values underlie the Charter in specific terms without referencing that you also have, under the Charter, the right to freedom of religion," she said.
More from HuffPost Canada:
May also doesn't believe an attestation box was needed because the summer job program is "highly discretionary" and each grant request is carefully reviewed.
"If there are groups that are troubling hot spots, they're easy to recognize. They're easy to review."
May said she has already faced some backlash online for backing the Tory motion but says she would never surrender "an inch of ground" on women's rights.
"As a feminist, I'm very clear about this. A woman's right to a legal and safe abortion is an absolute right, otherwise women die in illegal abortions. This is not a debate that we're going to open up."
The Green leader added that she told an abortion rights group concerned about her position to imagine if former prime minister Stephen Harper crafted a statement of values somebody had to check to hire summer students.
"This becomes a slippery slope and a bad precedent is one that I will not support," she said.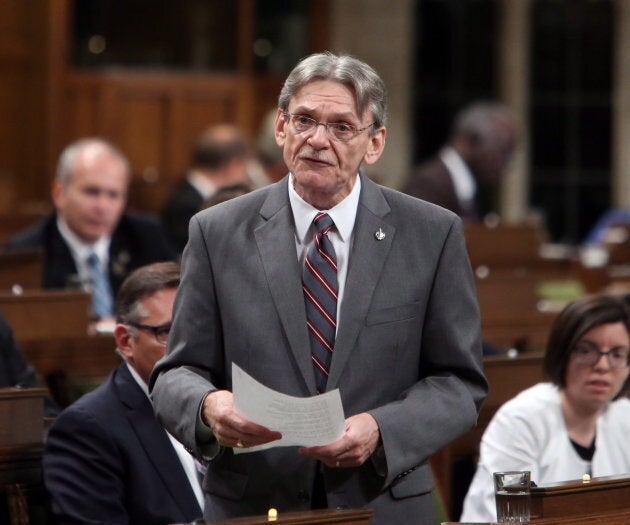 Christopherson, a veteran NDP MP, told HuffPost in a statement that he has been "unwavering" in his support for the pro-choice movement and LGBTQ rights. Voting against the rest of his caucus was a difficult decision.
"For me, the vote last night spoke directly to what our democracy means: You must obey the law, but you still have the fundamental right to oppose the law," he said in an email.
"As long as organizations are following the law and respecting everyone's Charter rights, then its personal beliefs shouldn't have a bearing on whether or not they can apply for funding. I'm not aware of any other government funding program that requires an attestation like this."
You must obey the law, but you still have the fundamental right to oppose the law.David Christopherson
If organizations in his riding felt their rights were being compromised by signing the attestation, then the effect "was to deny them access to a government program because of their religious beliefs," he said.
Simms did not respond to a request for comment but told CBC Radio in January that groups were being asked "to do something that they shouldn't be asked to do for the sake of a summer job for kids."
Hajdu said this week that the government believes it is on track to fund some 70,000 student jobs this summer.
With a file from The Canadian Press
Popular in the Community