Elizabeth May says she wasn't the only woman absent from The Globe And Mail leaders' debate.
Discussion on how women specifically are currently affected by Canada's economy was virtually absent from Thursday night's live-streamed debate, which featured three of the federal party leaders: Liberal Leader Justin Trudeau, Conservative Leader Stephen Harper, and NDP Leader Thomas Mulcair. May, the Green Party leader, was not invited to participate in the event, and instead held her own shadow debate on Twitter.
Throughout the night's discussion, which focused largely on economic issues, women were mentioned only once, by Mulcair, in relation to his $15-a-day child care strategy:
"Once it's fully ramped up, that'll be one million quality, affordable child care spaces across the country. That'll be good for the economy, but it'll also be good for women because that's almost always women who make tough sacrifices in their careers," he said.
While general economic issues affect all citizens, statistics show that women in the labour force, for example, have unique concerns that can be addressed by party leaders. As The Canadian Press pointed out earlier this week, electoral candidates in both the U.K. and U.S. have recently placed women's issues in the workforce at the forefront of their campaigns, emphasizing women's potential to drive the economy thanks to increased participation.
The lack of mention of women didn't go unnoticed by the Green party:
May elaborated on Twitter, saying: "Missing from this discussion of course is what's happening to women in the Canadian economy. We're falling behind and we do not have job equity. We're not getting equal pay for work of equal value, and the situation's even worse for women of racialized backgrounds. We must do more to assure a woman's place in this economy as full partners, with equal pay, for work of equal value."
May won considerable attention for her tweets and video responses Thursday, which were retweeted thousands of times and won her 3,900 new followers, according to CTV News.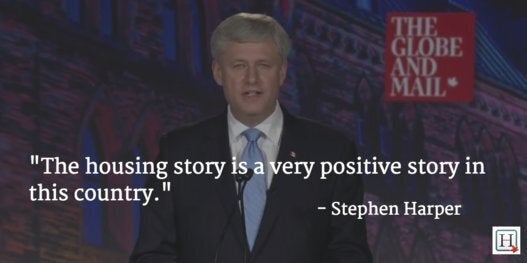 Best Quotes From Globe And Mail Election Debate
Popular in the Community