UPDATE: May has since apologized for her comments about Omar Khadr. In a phone interview with The Canadian Press on Sunday, the Green Party leader said, "I apologize that I made an attempt to be funny and edgy….and it didn't work." She continued on to say she had "no hard feelings" towards Raitt, who interrupted her remarks, and said, ""My funny speech wasn't funny. That's not the first time a politician has done that.""
Tom Mulcair interviewed his doppleganger at the Parliamentary Press Gallery's dinner Saturday night, and somehow that wasn't the evening's strangest event.
"Omar Khadr, you've got more class than the whole fucking cabinet," she says, before being escorted off the stage by Transport Minister Lisa Raitt.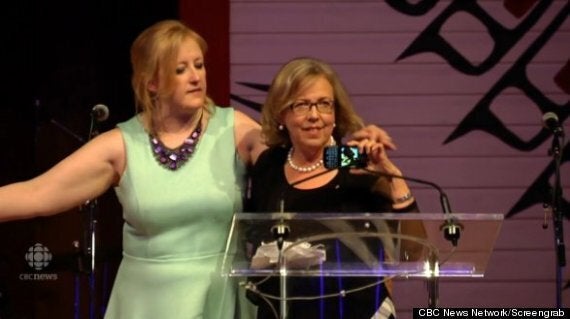 Press Gallery dinners are meant to be laid back and funny. Party leaders attend and poke fun at themselves.
May's comments, however, were the dinner's "weird moment of the night," according to the CBC's Rosemary Barton.
"It's hard to do speeches at these events, I've had to do them myself, it's a really tough room," she said on CBC News Network's Sunday Scrum. (Skip to 5:10 for the segment on the dinner.)
"You have to sort of make fun of yourself and not get too serious. I don't know if that's what happened with Elizabeth May."
Glen McGregor, a reporter with the Ottawa Citizen, appeared on CBC with Barton. He said that May gave a "very aggressive, partisan speech denouncing the government and its treatment of Omar Khadr."
He said Raitt escorted May off the stage because "at that point it had gone on so long and become so uncomfortable and completely contrary to the tone these things are supposed to have."
"Leaders come out at these dinners and they're supposed to be self-deprecating and funny and they'll rib the other leaders, but it's all kind of in a good-humoured way," he said.
Other leaders, however, managed to pull it off. Mulcair appeared with "This Hour Has 22 Minutes'" Mark Critch, who was dressed up as Tom Mulcair, for an interview.
Justin Trudeau compared himself to Pierre Karl Peladeau, as a rich kid with a more famous dad who wanted to lead a country. But he said he has better hair. He was "okay," according to McGregor.
At the end of the night, May, who is a Vancouver Island MP, jumped on stage to sing with Raitt and NDP MP Megan Leslie.
With files from Althia Raj and The Canadian Press.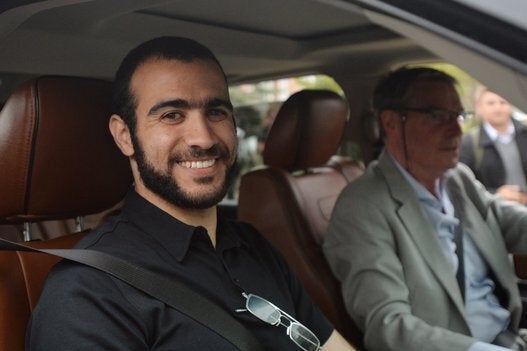 In Photos: Omar Khadr Freed