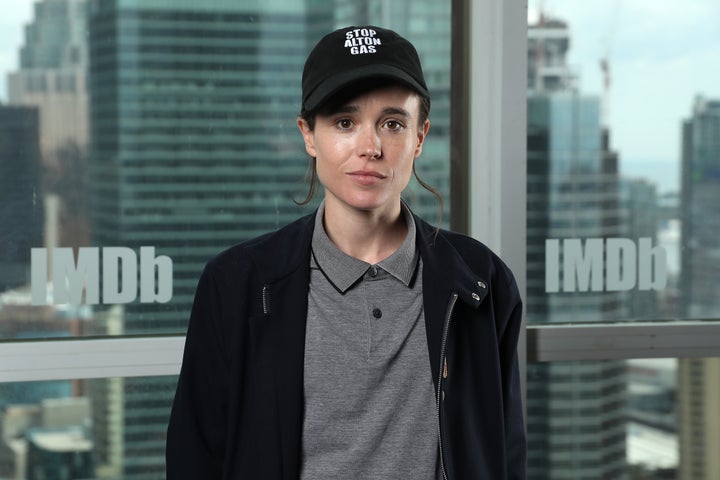 The Canadian actor best known for the 2007 movie "Juno" and the Netflix series "The Umbrella Academy" has come out as transgender.
Elliot Page made the announcement on Instagram on Tuesday, writing that his pronouns are he/they.
"I feel lucky to be writing this," Page said. "I can't begin to express how remarkable it feels to finally love who I am enough to pursue my authentic self."
"I also ask for patience. My joy is real, but it is also fragile," Page wrote. "The truth is, despite feeling profoundly happy right now and knowing how much privilege I carry, I am also scared. I'm scared of the invasiveness, the hate, the 'jokes' and of violence."
Page continued, "I am not trying to dampen a moment that is joyous and one that I celebrate, but I want to address the full picture."
Page closed the statement with a message of love.
"The more I hold myself close and fully embrace who I am, the more I dream, the more my heart grows and the more I thrive," he wrote.
"To all trans people who deal with harassment, self-loathing, abuse and the threat of violence every day: I see you, I love you and I will do everything I can to change this world for the better."
Page, who grew up in Halifax, was an LGBTQ+ advocate for years before marrying dancer and choreographer Emma Portner in 2018. He first came out as queer in a speech at a Human Rights Campaign conference in 2014.
"I am tired of hiding and I am tired of lying by omission," Page said at the time. "I suffered for years because I was scared to be out. My spirit suffered, my mental health suffered and my relationships suffered. And I'm standing here today, with all of you, on the other side of all that pain."
In the 2016 documentary series "Gaycation," he and his friend Ian Daniel explored attitudes toward queer communities around the world. They frequently encountered danger, like when they came face-to-face with a police officer in Brazil who bragged about killing gay people.
"It was probably one of the more scary, nerve-wracking moments I've had," Page said, according to The Wrap.
Last February, the actor appeared on "The Late Show with Stephen Colbert," where he spoke with conviction about how hateful rhetoric by politicians can lead to an increase in hate crimes.
"I think the thing we need to know... [is how to] connect the dots," Page told Colbert. "What do you think is going to happen? Kids are going to be abused and they're going to kill themselves. People are going to be beaten on the street. I have travelled the world and I have met the most marginalized people you could meet. I'm lucky to have this time and this privilege to say this. This needs to fucking stop."
Popular in the Community