Guys, meet Maye Musk — a stunning 69-year-old model who has been in the fashion industry for over 50 years!
And did we mention she's Canadian? Maye was born in Regina, Sask., but moved to Pretoria, South Africa with her parents, her twin sister and two other siblings when she was nearly three, Vanity Fair reports.
Maye was only 15 years old when she began modelling, but being part of the fashion industry wasn't her only ambition. At 21, she was not only a finalist in the 1969 Miss South Africa contest, but also a university graduate with a bachelor of science degree.
Maye went on to earn two master's degrees — one in dietetics and one in nutritional sciences — and became a practicing dietitian, all while continuing her modelling career and raising three now-famous children: Elon, the CEO of Tesla; Kimbal, a restaurateur; and Tosca, a filmmaker.
Maye didn't return to Canada until she was 42 years old. At that time, she and her kids settled down in Toronto, and Maye took on a number of jobs because her "funds were blocked in South Africa" at the time, she tells HuffPost Canada via email.
"[The kids and I] all worked long hours to support ourselves," she says. "I covered rent, food, clothes, transport, high school, they covered all their extra expenses."
Despite this, she admits, "I loved living in Toronto."
I was the oldest model in Toronto and there was a market for us.
It was during her time in the 6ix that Maye started her nutrition practice and became a consultant in the food industry, rising to be president of the Consulting Dietitians of Canada.
Of course, throughout it all, Maye continued to model as well.
"Modelling continued as I was the oldest model in Toronto and there was a market for us," she explains. "Runway shows were booked many months ahead, especially as mother-of-the-bride. Sometimes there were eight bridal shows per day."
"In my wildest dreams, I wouldn't imagine I would be modelling at 69," Maye reflects. "At 15, I was told I would be done by 18, which is why I studied so hard. As I grew older, agents kept asking me to do runway and print jobs, and then TV commercials. I stopped being surprised and decided to continue until no one called. I'm excited to say that people are appreciating women over 65, and I'm working more than ever."
Although most of Maye's years were spent outside of Canada, she maintains that her Canadian roots played an integral role in her career.
"My sisters, brothers and I were brought up to be like our [Canadian] parents: kind, considerate, punctual, honest, gentle speaking and hardworking with wholesome family values," she said.
I'm excited to say that people are appreciating women over 65, and I'm working more than ever.
She also added that she met her best friend, stylist Julia Perry, when she moved to Toronto. Perry has been her stylist ever since and has helped her modelling career blossom even more.
"Since I'm a science nerd and need help with the latest fashion trends that work for me, Julia is my go-to person when it comes to fashion and understanding my personal style," she explained.
Maye has certainly proven that she deserves to be in the spotlight. Not only is the 69-year-old a stunner, but her photos are absolute 🔥🔥🔥.
Take a look for yourself!
According to Maye, it wasn't until she turned 60 and stopped dying her hair that things really took off.
The fashion industry doesn't recognize my surname.
"I stopped colouring my hair, cut it short and let my natural silver colour shine," she wrote on her personal website. "The new look brought a major campaign for Virgin America and Joe Fresh, billboards in Times Square, covers of Elle Quebec, New York Magazine, L'Officiel Azerbaijan and Zoomer Magazine, music videos and commercials, and recently the 'It Girl' in Vanity Fair."
And while her kids have all made names for themselves, Maye says she doesn't credit their success for helping her own. "The fashion industry doesn't recognize my surname," she told WWD.
That's right — Maye is her own woman, and is teaching us that with age comes incredible opportunities!
This November, the 69-year-old will be returning to Canada for a charity event, she reveals. "I will be walking the runway in support of the Breast Restoration Unit at the Princess Margaret Cancer Centre, one of the top five cancer research centres in the world."
It's not surprising for Maye to visit Canada. After all, many of her family members are still living in the Great White North, including her cousin's children in B.C. and Sask., one sibling in Windsor, and her twin sister in Calgary. Additionally, her filmmaker daughter, Tosca, often makes movies in Canada as well.
"I am frequently reminded that I am Canadian-born," she said.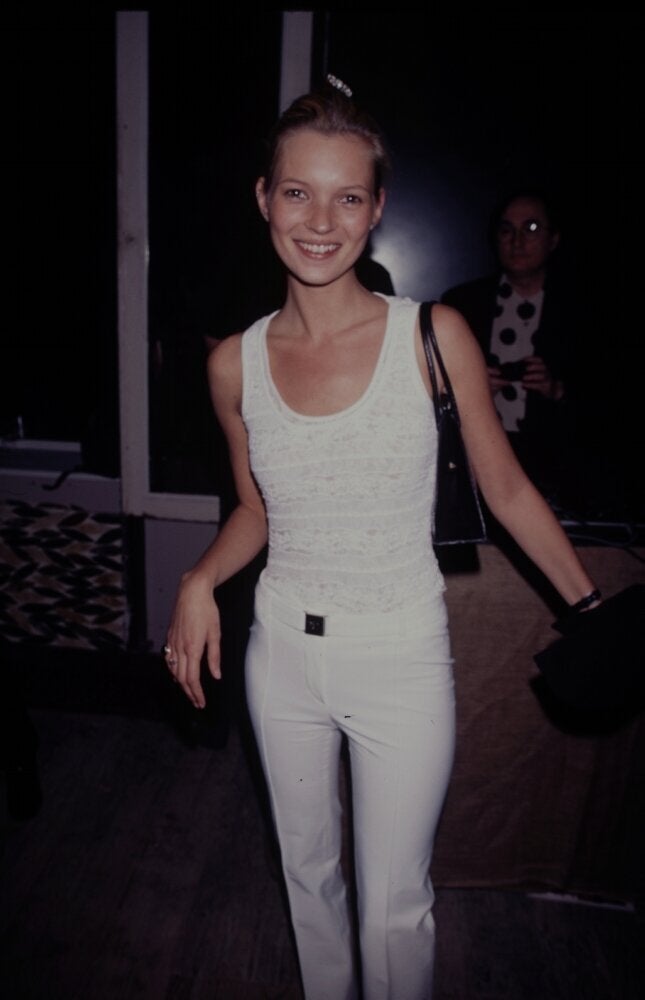 Classic Supermodels: Then & Now